Melted. Leek. Frittata.  I should not have to say another word.
I have always, even as a child, loved quiche but as a low carb girl, I have ditched the crust for the Italian cousin of quiche, the frittata.  Frittatas have to be one of the most perfect meals.  The combinations of ingredients are endless, they taste great cold or room temp, they take no time at all to whip up, are good for breakfast, lunch and dinner…and if you have eggs you can pretty much whip up a yummy meal with anything you have on hand in the fridge!  This Roasted Zucchini & Asparagus Frittata with melted leeks is no exception…pure deliciousness.
I love making frittatas on Sunday because that it typically the day I hit the grocery store and end up cleaning out the fridge to make room for all the fresh produce.  I always have some produce that I had great intentions of using but didn't quite make it into a meal…and I hate throwing away food.  A frittata is the perfect place to dump all of the veggies and leftovers that need to be used up. 
On my last trip to the grocery store, I realized the spring has sprung…at least in Texas.  My produce guys are busy stocking shelves with fresh asparagus, leeks, green tomatoes, mangos and more.  When I see fresh asparagus, I can't help but pick up a bunch…or two.  Asparagus is one of my favorite things…I think I was the only kid in elementary school who knew what it was, much less ate it and loved it.  Although, as a child, I only has access to canned asparagus (yuck!) and it wasn't until years later that I tasted fresh asparagus for the first time and swore off the canned stuff forever.  Anyways, I grabbed a couple bunches and moved on.
Leeks also caught my eye…I love them in potato soup.  Melted leeks add an unctuous, rich, mild onion flavor to whatever you add them to.  I thought about potato soup for dinner but it was in the 90's outside and I just couldn't imagine eating a hot bowl of potato soup for dinner…but I would add them to something…big, green and lovely…I just couldn't pass them up.
So, guess what was left in my produce drawer that needed to go on Sunday…a few zucchini, a bunch of asparagus, a leek and a few other random items. Sunday is also when I try to prep for lunches and dinners for the week, so I immediately thought a zucchini and asparagus frittata would be a great vehicle for these forgotten veggies.  It's the perfect low carb meal and it would make enough for lunches for me and Maddie.  My oldest daughter, Maddie, is always looking for different things to pack in her lunch box and this is right up her alley…she loves veggies. 
Just a side note…the Cowboy does not care for the texture of baked eggs so we don't do frittatas for dinner when he is around, but they do make for an easy weeknight meal…served with a salad…YUM!
So, let's get on with it…this zucchini and asparagus frittata is packed with all my favorite spring flavors and you can whip it up in no time at all.  I cut the ends off the asparagus, diced up the zucchini and threw them on a baking sheet on some parchment to roast while I put away the rest of my groceries.  The zucchini hung out in the oven just a little longer than the asparagus to make sure that enough of the moisture is cooked out so our frittata is the right texture.  Cooking the leeks with some butter to soften them up ensure they melt away into the frittata and leave behind an incredible flavor.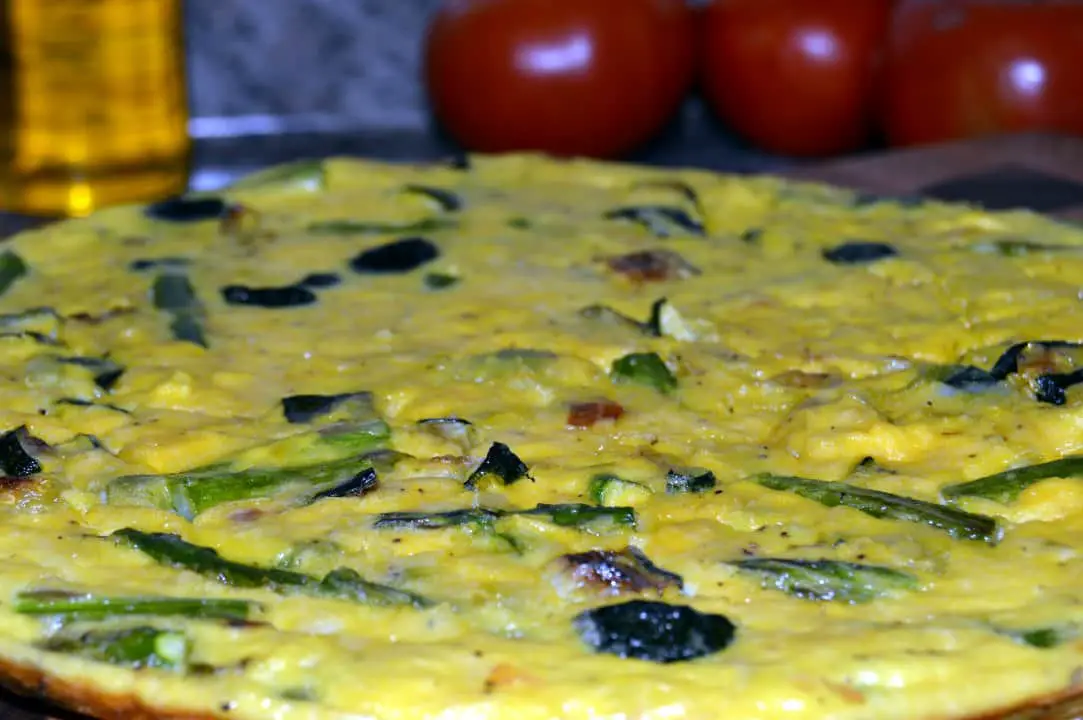 You can't go wrong with this combination of flavors.  Before it even made it out of the pan, Maddie had eaten two pieces and was asking if she could take it in her lunch.  It's that scrumptious.
A note about leeks:
**Be sure to clean leeks thoroughly; they are full of sand and dirt.  To clean, cut the dark green tops off the leek and cut the root off the end.  Slice the entire white part of the leek in half lengthwise down the middle.  Slice the leeks in thin slices from the ends, so you end up with a bunch of half-moon shaped pieces.  Place the sliced leeks in a large bowl of cool water and move them around rinsing off any sand or dirt that is on them.  The leeks will float on top and the dirt and sand will sink to the bottom of the bowl.  After rinsing thoroughly, scoop them off the top of the water, place in a colander and give them one last rinse.  Before adding them to the sauté pan, dry them by placing them on a paper towel.  Don't skip this step or you will have crunchy, sandy bits in your creamy, dreamy frittata…not good eats!
Melted Leek Frittata with Roasted Zucchini & Asparagus
March 14, 2017
: 8-10
: Easy
Melted leeks and roasted spring veggies give this frittata amazing texture and incredible flavor. Its a low carb, gluten free and keto friendly option perfect for any meal!
Ingredients
2 Tablespoon butter, salted
12 eggs, room temperature
1/2 cup sour cream
1/4 cup parmesan cheese, grated
1/4 tsp salt
1/4 tsp pepper
2-3 dashes of hot sauce (optional)
1 large leek, cut in half lengthwise, then thinly sliced and rinsed throughly
2 medium zucchini, diced
1 lb fresh asparagus, trimmed
Directions
Step 1

Preheat oven to 450 degrees. Place zucchini and asparagus on a lined sheet pan. Drizzle with olive oil, salt and pepper and toss to coat. Roast in oven for 10 minutes. Remove asparagus from pan and set aside. Return zucchini to oven for an additional 5-10 minutes or until starting to brown and caramelize. Set asparagus and zucchini aside to cool. Cut the asparagus into 2 inch pieces.

Step 2

Turn oven down to 350 degrees.

Step 3

Melt butter in a 12 inch nonstick skillet* over medium heat and add the leeks. Sauté until soft and leeks begin to caramelize, about 7-10 minutes. The leeks will be soft and falling apart.

Step 4

While the leeks are cooking, combine the eggs, salt, pepper, sour cream, cheese and hot sauce if using in a large bowl and mix well to incorporate. Do not mix too vigorously…you don't want too much air in your eggs.

Step 5

When the leeks are all melty and unctuous and beginning to caramelize, spread them around the pan in an even layer. Sprinkle the roasted zucchini evenly on top of the leeks. Repeat with the asparagus pieces.

Step 6

Pour the egg mixture over the veggies. Cover and cook over medium heat for about 5 minutes or until the eggs start to come away from the side of the skillet. Then place the skillet in the oven for 7-10 minutes or until eggs are set. The top should not be brown and eggs should be custardy and just set.

Step 7

You will cook the frittata in this skillet. I used a 12 inch skillet but you could use a 10 inch. Cooking time in the oven will be longer. Also, you will be putting this skillet in the oven so make sure it has an oven proof handle.