We eat a lot of ground meat in our house, probably because after hunting season we typically have quite a bit of ground pork or venison in the freezer to use.   One of my favorite shortcuts in the kitchen is to make a big patch of this Tex-Mex Taco Meat and freeze it in 1 pound packages so I have it on hand for quick weeknight meals.  My kids love it and it is so versatile…it tastes great in anything!
One of The Cowboys' favorite meals has always been soft tacos and it is still a family favorite.  That's where this recipe started.  Through the years, I have started using my leftover taco meat in many other of our favorite weeknight dishes like fideo, taco salads, nachos, chili, Tex-Mex Enchilada Casserole…stuffed peppers, fritattas, soups and even spaghetti….the list goes on and on.   Bottom line…this Tex-Mex Taco Meat is a great base to a ton of scrumptious and healthy dishes.  Now, I cook up extra on purpose!  I cook at least once batch a week and use half for what I'm cooking and freeze the other half…or you could make a huge batch and freeze it all!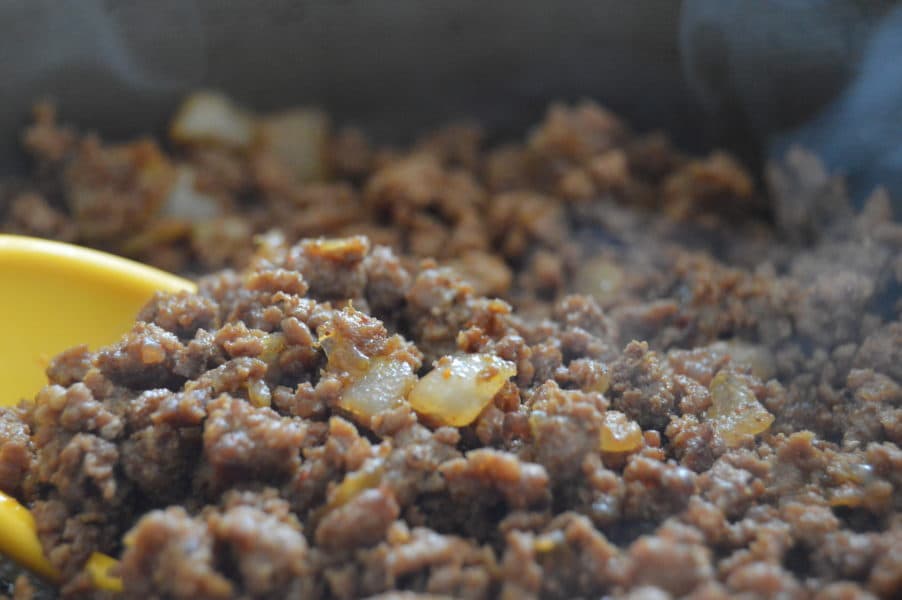 Even though I use Tex-Mex spices to season the meat you will never notice it in other dishes…its incredibly savory and the blend lends itself to a variety of dishes. In fact, it makes the best spaghetti sauce! The secret is really cooking the onion along with the meat.  As the onions cook down and gets soft the natural juices and sugars help caramelize the meat…in the end you get that incredible savory caramelized yumminess! There will be a point during the cooking that the meat is cooked, kind of grey in color and has released some juices.  Keep going!  Continue to cook the meat and stir until all the juices are gone…this is when the magic happens!  The meat starts to caramelize and really becomes flavorful! Brown food is yummy food!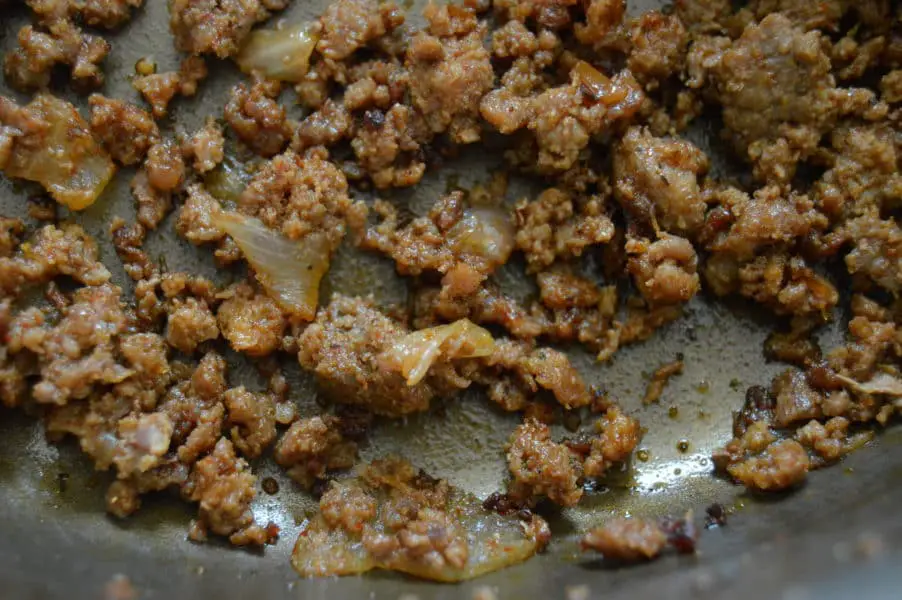 You can use any type of ground meat or your favorite blend.  I often use venison or pork (and often together) because that is what I have on hand, it is very lean, its delish and that is what my family likes!  Growing up all Mom #2 used was ground turkey…that will work well too.  If you do use beef, I would use ground sirloin rather than ground beef because its leaner and seems to brown up a little better for me without all the excess fat.  Anyway you do it…it will be amazing!
It takes not time at all to whip up this Tex-Mex Taco Meat.  It is perfect for meal prepping moms or anyone who wants to get a quick, delicious dinner on the table.  Funny thing…the Cowboy doesn't really like frozen leftovers too much…but he can't tell when I use this taco meat if it has been frozen or if its fresh…it tastes great every time!  Whip yourself up a few batches and get ready for a few effortless weeknight dinners that are so yummy no one will ever know your secret!
Tex-Mex Taco Meat
May 10, 2017
: Yield about 4 cups
: 10 min
: 30 min
: 40 min
: Easy
Tex- Mex Taco Meat is only ground meat recipe you'll ever need! Perfectly seasoned with onions and spices it's the perfect base to all your favorite meals! Gluten Free, Low Carb, Paleo Friendly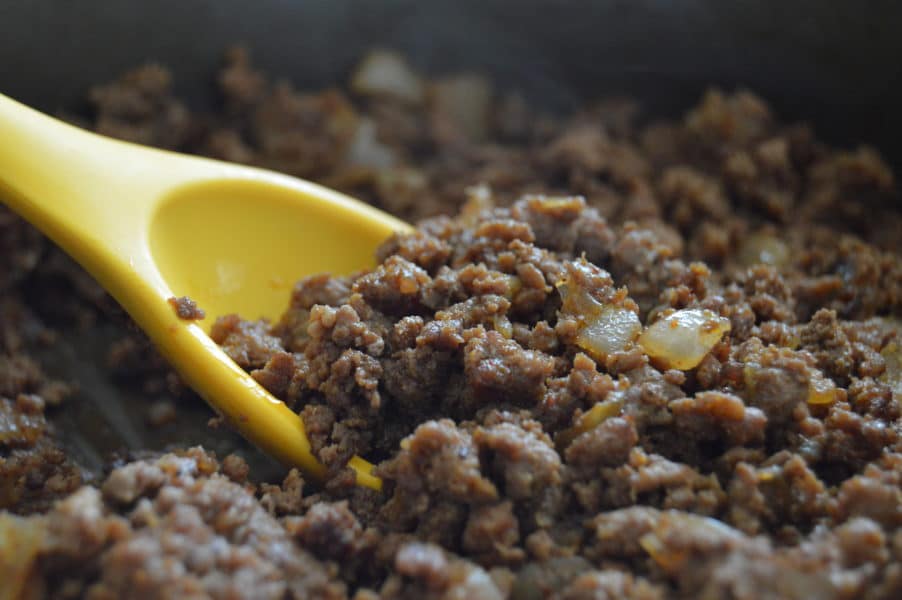 Ingredients
2 lbs ground meat, lean
1 large yellow onion, diced
1 tablespoon chili powder
1 1/2 teaspoon paprika
2 teaspoons onion powder
2 teaspoons garlic powder (not the fine stuff, granulated)
1 teaspoon cumin
2 teaspoons black pepper
1 tablespoon kosher salt
Directions
Step 1

Add ground meat, diced onion and all spices, salt and pepper to a large skillet over medium high heat. Work to break the meat apart and work the spices into the meat.

Step 2

Continue to cook, stirring occasionally over medium high heat. As the meat continues to cook there will be some liquid in the pan. The meat will be cooked but not browned…a gray color. Do not stop here…continue to cook the meat allowing the liquid to cook out.

Step 3

When the liquid evaporates completely, the meat will start to caramelize. Continue to cook over medium high heat, stirring occasionally from the bottom of the pan moving the brown bits up from the bottom so everything gets nice, brown and caramelized.

Step 4

Once the meat is caramelized and brown throughout, turn the heat off and allow the meat to cool a bit before packaging up for the freezer or use immediately for your favorite dish!