I have an unnatural fondness for pimento cheese.  It is a southern staple but, for me, it is one of those foods that just takes me back to my childhood.  I remember there always being a container in our fridge next to the package of olive loaf (which I still detest to this day!).  You know the one I am talking about….it was an odd color of orange, sweet and savory at the same time with little chunks of cheese that almost reminded me of large cottage cheese curds.  It graced the tables of many potlucks and family functions as a filling for finger sandwiches or stuffed in celery.  I loved it anyway I could get it…on plain bread, cucumbers, celery or just straight out of the container (SMH!!). 
When presented with real homemade pimento cheese as an adult, I wasn't sure I event wanted to try it…I knew I couldn't like "that kind" of pimento cheese.  It wasn't sweet, there were no familiar curds, it just wasn't right….oh, but it was!!  It was savory, decadent and absolutely addictive.   Did I mention, incredibly simple to make?  After trying it for the first time, I knew I could never go back.
To honor my love of this cheesy southern spread, I added it to my menu board at the restaurant and it was an immediate hit!  Some were confused by the lack of sweetness…but they came back for more.  There was not a day that went by that someone didn't ask me about the recipe or try to guess the ingredients.  People could not believe that a simple mixture of cheese, mayo and pimento with a few seasonings could taste so wonderful…there just had to be more to it…cream cheese, sour cream, special mayo?  No mam'!    
Over the years I have come up with a few different versions of this beloved southern classic.  My favorite…Jalapeno Pimento Cheese.  I actually prefer it over the classic version …yep, I said it!   It's AMAZING…everything I adore about the classic version with a spicy kick. The jalapenos get roasted and charred to soften them up and to give them great pepper flavor that mingles beautifully with the flavors of the cheese and pimento…it's absolutely magic!   It makes a great sandwich or filling for the classic celery but my favorite is to use to as a dip or spread for cucumber slices….the cool cucumber is the perfect match for the spicy decadent cheese. It is my favorite low carb snack…I hope you love it as much as I do!  Classic and other versions coming soon…hold on to your seats!
Feeling adventurous…use it as a topping on a burger or in a grilled cheese…you will never want to be without a container in your fridge!
Jalapeno Pimento Cheese
March 9, 2017
: 6-8
: Easy
This version of pimento cheese gets spiced up with roasted jalapenos for a delicious, twist on a Southern staple.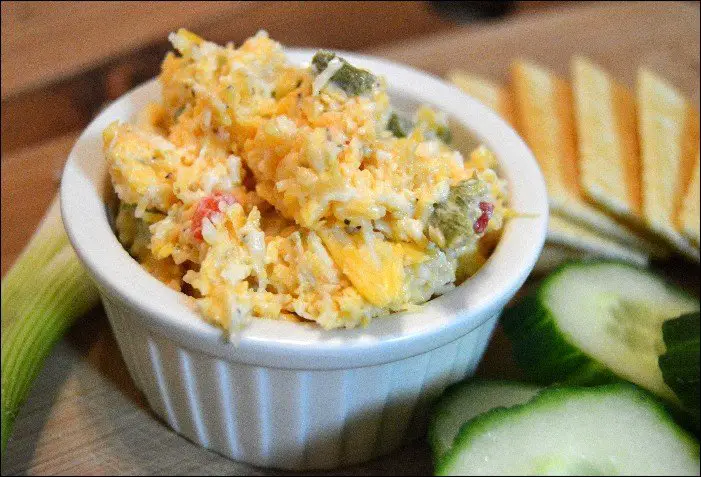 Ingredients
3-4 jalapenos, roasted, seeded and chopped
2 cups mild cheddar, finely shredded
2 cups Monterey jack, finely shredded
1 cup sharp cheddar, finely shredded
1 2oz jar diced pimento
2-4 dashes hot sauce
1 tsp pepper
1/2 tsp granulated garlic
3/4 cup plus 2 Tbsp of your favorite mayo
Directions
Step 1

To Roast Jalapenos: Preheat oven to 450 degrees. Place whole jalapenos on parchment lined baking sheet. Drizzle with olive oil and roast for 10-15 minutes, turning once. Peppers are done when blistered, charred and skins start to split. When done, place peppers in bowl and cover with plastic wrap to cool. When cool, using gloves, cut stem end off and slice peppers lengthwise, remove seeds. Dice jalapeno and set aside, this should yield approx. 1/2 cup of chopped jalapeno.

Step 2

For Pimento Cheese: In a large bowl mix together the cheeses, pepper and garlic, toss to distribute seasoning in the cheeses. Add pimento and 1/4 cup of the chopped roasted jalapeno to cheese mixture. Add mayo and hot sauce, mix to thoroughly combine. I like to mix this with my hand using gloves, I can really get all the ingredients combined well. Depending on the heat level of the peppers, add more jalapeno to suit your taste, mixing well after each addition. You can always add more but you can't take it out! I typically use three large jalapenos which is about 1/2 cup of jalapeno.

Step 3

Flavors improve after setting for at least a few hours but its best overnight. The mixture will tighten up as it sits and you may have to add a tablespoon of mayo to get it to the consistency to spread or dip. Store in an airtight container in the fridge.