It was only a few years ago that I discovered my hatred of this popular, unassuming green.  I grabbed a quick salad at a small salad bar in town and instead of choosing the boring iceberg, I went with the fresh looking mixed greens.  I love spinach, kale, baby lettuce, so I loaded my plate, threw on a few toppings and I was off.  After my first bite, I was convinced that something in my salad was spoiled.  The taste and smell of sulfur and rotten weeds held all my senses hostage.  It permeated everything and needless to say, the plate went straight into the trash.  It wasn't until a few months later that I realized it was one type of green making my salad inedible.  The culprit – arugula.
Arugula (or as some ca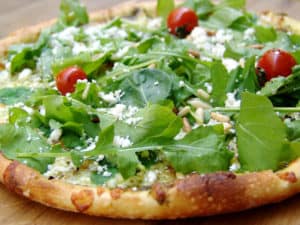 ll it, Rocket), the "bitter green with a peppery bite" has since occasionally snuck its way into my meals in the way of a garnish, salad green or topping for something but I avoid it like the plague. I'm going to just come out and say it…I hate arugula.  In fact, I came within a hair of naming my whole blog just that.  I absolutely despise it…and I know I am not the only one (Julia Child…need I say more?).  And no, I'm not a hater of veggies…just the opposite in fact.  My favorite veggies are eggplant, Brussel sprouts and asparagus, so I am no stranger to fresh veggies or bitter flavors.  I have tried it time and again  over the years, thinking that I would one day just get what all the hype is about and fall in love (or at least not want to spit it out) but it just hasn't happened.  I just can't get over the sulfury, weedy flavor of this green.  Unfortunately, arugula is now being used on everything…pizza, burgers, sandwiches, pesto, soup and more.
So what to do?  Often times all a dish needs to send it over the edge of deliciousness is a fresh bitter component to offset sweet and salty and bring balance to a dish.  So what can take the place of the dreaded arugula?  Here are 5 great substitutes to use in place of arugula in your favorite dishes:
 Watercress
Watercress is a semi-aquatic plant, closely related to the radish,  that has a peppery, mustard-like flavor, making it a glorious, refreshing green to eat. It's also extremely good for you and is rich in calcium and vitamin K. Look for organic watercress in your market.  Watercress is versatile and would be delicious in a salad, sandwich, or even as a fresh element on a taco, pizza or soup.
2.  Escarol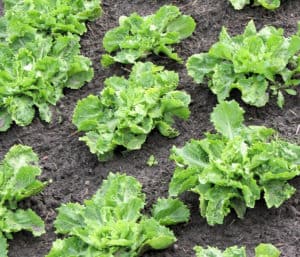 e
Escarole is a bitter, hearty, leafy green related to Belgian endive and tastes much like radicchio, its purple cousin. It is has broad, pale green leaves and less bitter than its other relatives.   Escarole is especially rich in folate and vitamins A and K. It is best enjoyed eaten as other greens, in a salad but is can also be delicious chopped up and added into soups and stews.
3.  Frisee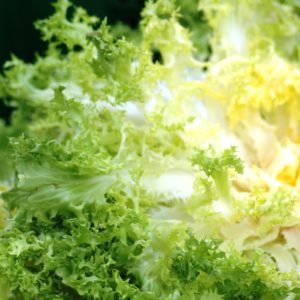 Frisee, or curly endive, is a green that you see commonly in your Spring Mix salad blend.  It is a member of the chicory family and is pale in color and delicate with a slightly bitter flavor.  Like its cousin, escarole, frisee is rich in folate and vitamin K.  Despite its delicate appearance, Frisee holds up well in salads, especially paired with hot ingredients, like bacon or a perfectly poached egg…yum!
4.  Radicchio
Radicchio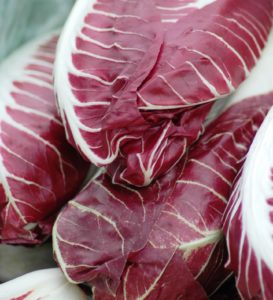 is a member of the chicory family who stands out from his relatives because of its white veined red wine colored leaves that, at first glance, resemble a purple cabbage.  It has a , spicy, bitter taste that mellows when it is cooked.  Its rich red color means Radicchio is rich in antioxidants and it also boasts high levels of Vitamin K.  Radicchio, in its raw form, is a delightful addition to salads and shaved thinly would make a tasty topping for a taco.  Radicchio, grilled, roasted or sautéed is also delicious addition to a sandwich, pizza or pasta dish.
5. Baby Spinach
If you are like me, I always have baby spinach or a baby spinach/kale blend in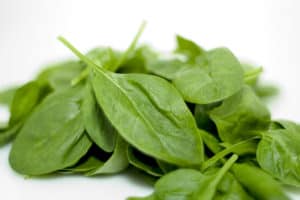 my fridge.  While not as bitter as the previously mentioned greens, baby spinach and its compadres can lend a fresh, green, slightly bitter component to any dish.  Spinach (and kale) are incredibly nutrient rich and are widely available.  Given my aversion to spring or mesclun mixes, I prefer a salad mostly of spinach.  In addition to being a great salad component, baby spinach can be used everywhere you would find arugula and your guests wouldn't suspect a thing.  Sandwiches, soups, salads, pizza, pesto, pasta dishes, burger and tacos are great canvases for baby spinach…my 7 year old even loves "leaves" in her smoothie.
So if you are one that loves their arugula and wants to keep on rockin' the rocket…carry on.  If you are one that finds arugula only slightly offensive, or like me, just can't plain stand the stuff, kick this stinky green to the curb and give one of these other good-for-you greens a try!  What is your favorite green?