Like most Texans, I have definite opinions about how certain foods should be.  Guacamole is one of them.  It is one of my favorite things…I could (and have) eaten it by the spoonful.  A fresh warm corn tortilla wrapped around authentic and simple Texas Guacamole…heaven.
I used to have the worst luck picking avocados, I would get them home and they always had big brown spots or they were too hard to do anything with…so frustrating!   I learned a trick from a good friend years ago…so if you have this problem listen up!  You are looking for an avocado that has some give when squeezed, not rock hard, but not squishy.  If you pull the stem out and its green underneath the avocado is good.  If its missing or is brown underneath, its overripe and you will have an avocado with nasty brown spots.  This method rarely fails me…try it out!
Over the years, I have seen tons of guacamole recipes that range from "a little strange" to "absolutely not". I believe that when it comes to guacamole "keep it simple" should be the mantra.  In my experience, the more stuff you add, the more you lose the avocado.  The key is fresh Haas avocado…this, most people agree on.  Cut out the brown spots and don't loose the stem in your bowl!  There is nothing that ruins this experience more than crunching down on the stem…its like having a big egg shell in your creamy, perfectly scrambled eggs…not good!
Guacamole should not be completely smooth…avocados have great texture.  I am a "masher"… there should be a few various sized chunks in there, but no diced avocado. Diced avocado and veggies equals avocado salsa, not guacamole. Do not add mayo or sour cream to your guacamole. This is a crime!  I love mayo and sour cream but they do not belong Authentic Texas Guacamole.  And don't event ask about cream cheese…or cheese of any kind!   You can have a great guacamole with just avocado, salt and a little salsa…this is how we roll during the week.  I love when the Cowboy makes his Famous Garlic Salsa, it is all a good ripe delicious avocado needs to transform into guacamole perfection!  We always have avocados around…and we have guacamole with dinner at least once a week.  Taco salads, chalupas, nachos, King Ranch Chicken, enchiladas, pinto beans…all better with guacamole.
If you want to dress it up a bit some add ins are acceptable…tomato, onion, lime (not lemon) juice, a touch of garlic…maybe a pinch of cumin…stop there. That is all it needs.  I know…what about the cilantro?  I don't think it needs it.  Cilantro is a strong flavor and I just don't like it taking over my avocado.  Please no mango, peas, pineapple, bacon, chilis, kale, apples, peaches, mint, banana…(really?).  Even corn and black beans have their place but not here.  Yes, you can have an avocado dip with mango and pineapple…but don't call it guacamole.
I told you I have some definite opinions on this topic!  Because I believe both are authentic and definitely delicious, I have included both of my favorite versions of authentic & simple Texas Guacamole.  Now you tell me yours!
Authentic & Simple Texas Guacamole
May 20, 2017
: 4-6
: 15 min
: 15 min
: Easy
Authentic Guacamole keeps it simple... fresh, ripe avocados, fresh salsa and some optional add-ins if you just can't help yourself. Either way...delicious!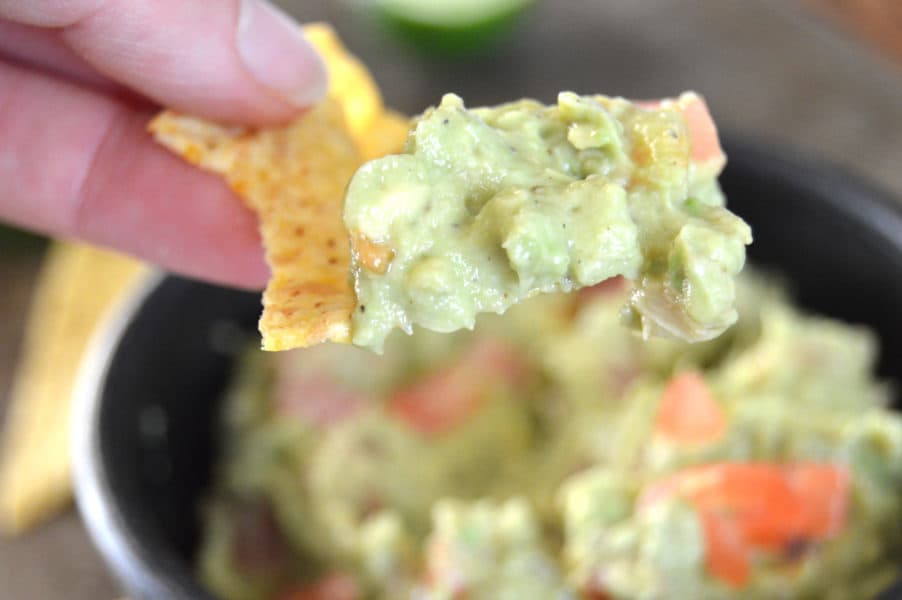 Ingredients
4 ripe Haas avocados, halved, pitted & coarsely mashed
3-4 tablespoons fresh salsa (try The Cowboys' Fresh Garlic Salsa)
Salt to taste
Optional Add-Ins
1 tablespoon fresh lime juice
1 Roma tomato, seeded & finely chopped
1-2 tablespoon purple onion, minced
Fresh Ground Black Pepper
1/2 teaspoon granulated garlic (not if using garlic salsa)
Pinch of cumin
Directions
Step 1

Add coarsely mashed avocado to bowl, mix in salsa and salt to taste.

Step 2

Add optional add-ins as desired!

Step 3

Serve with tortilla chips, warm corn tortillas, tacos, nachos or just eat it by the spoonful!