It's tough going out to eat these days….I realize now why we only went out on very special occasions as a kid.  Feeding a family of four (or more) at a restaurant can get expensive!  We definitely don't go out as much as we used to, but if we do, we do try to hit happy hour where the appetizers are half price because for the Cowboy, appetizers are a must have!  Hands down, our family favorite is calamari.  If it is on the menu, we order it.  I'm pretty sure we have become "Calamari Connoisseurs" in the process…and my girls cant get enough of it!  In fact, sometimes we have to order two plates to have enough for all of us.
But, being lovers of calamari has its disadvantages…sometimes its not all you hoped it would be!  Needless to say, we have had our share of tough, overly breaded, tasteless calamari but we keep ordering because when its good…it's amazing!
The perfect fried calamari is melt in your mouth tender, crispy, seasoned well, and always has a great dipping sauce.  I love when they include little baby squids with the classic calamari rings..my favorite!!
So, over the weekend we were out running around and ended up at a little Asian restaurant for lunch.  We all packed into the booth, opened the menu and there it was!  I don't even think we even ordered drinks before we put our order in for the appetizer!  Needless to say, it was some of the best fried calamari I have had.  It was super lightly breaded, crispy, tender (the little squids were there…bonus points!!) and the sauce was fantastic.  Now, this being an Asian restaurant, the classic marinara was missing.  This sauce was a spicy mayo based sauce with an Asian flair…yummy!  In a matter of minutes…it was gone…completely decimated.  All that was left to do was dip the cabbage garnish in the sauce that was left over!
For days we talked about and craved that crispy, succulent deliciousness.  Well enough of the talking and craving…I had to make some of my own!  I grabbed some frozen calamari from the grocery store and went to work coming up with the perfect breading and dipping sauce!  You know, underneath it all Calamari is a super simple dish and it really took no time at all to prepare at home and the best part is you can make 4 times as much at home than comes on one little appetizer portion for a fraction of the price!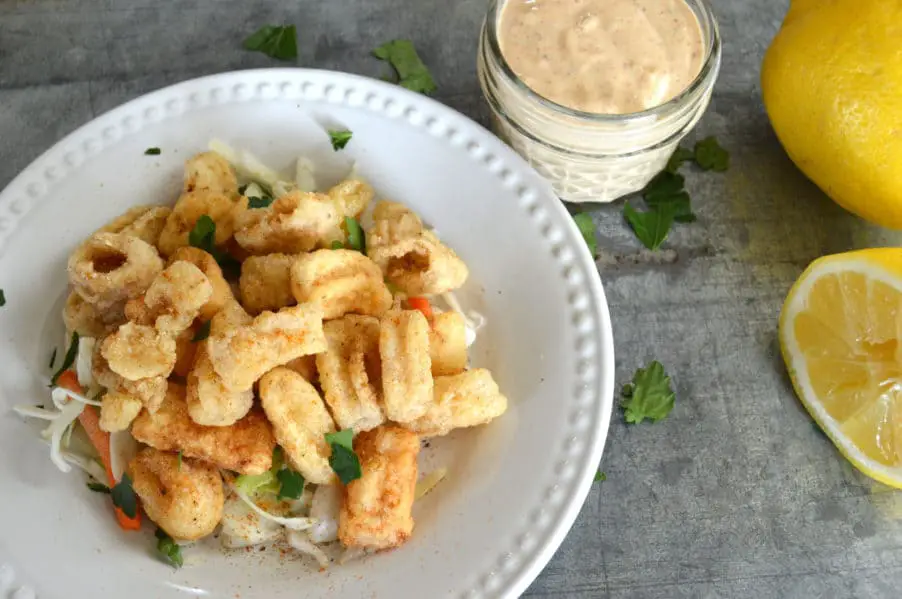 Cornstarch or arrowroot is the secret to crispy, light, golden fried calamari …and adding a little bit of corn flour adds great flavor and texture…and it's gluten free!  They literally take just about a minute to cook…any longer and you will have rubber.  Dynamite Dipping sauce is a magical concoction of mayo and wholegrain mustard with a few other simple ingredients…the result is magical!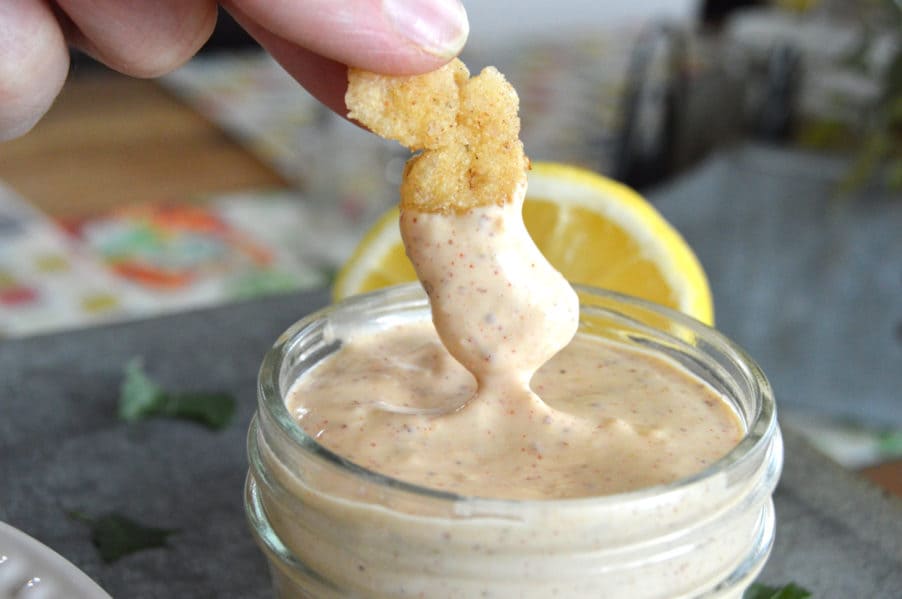 Crispy Gluten Free Golden Fried Calamari w/ Dynamite Dipping Sauce
May 25, 2017
: 4-6
: Easy
Now you can make Crispy, golden fried calamari at home! This version is gluten free and comes together in no time flat! Served with my Dynamite Dipping Sauce it is magic!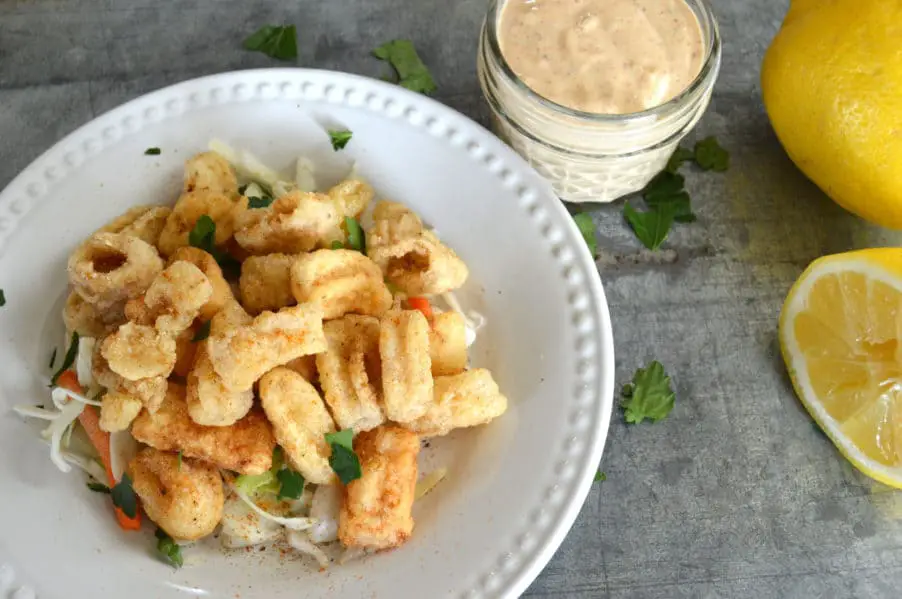 Ingredients
1 pound frozen calamari, thawed
About 2 cups whole milk
1 tablespoon fresh lemon juice
1 cup cornstarch or arrowroot
1/2 cup corn flour
11/2 teaspoon Old Bay Seasoning
1 teaspoon garlic powder
11/2 teaspoon salt
Oil for frying
Sea Salt
Dynamite Dipping Sauce
1/2 cup mayonnaise (your favorite)
2-3 shakes hot sauce
2 teaspoons whole grain mustard, heaping
1/2 teaspoon Worcestershire Sauce
1/4 teaspoon paprika
Pinch to 1/8 tsp cayenne pepper (optional)
1/4 teaspoon salt
2-3 tsp fresh lemon juice
Directions
Step 1

Place calamari in a bowl or container and cover with milk, add lemon juice and stir. Let sit for 20 minutes, stirring occasionally.

Step 2

Prepare Sauce: Mix mayo and next 6 ingredients in bowl.  Next, add cayenne to taste and stir to combine and refrigerate while preparing calamari.

Step 3

Prepare coating: Mix cornstarch, corn flour, old bay, salt and garlic in bowl and use whisk to thoroughly combine.

Step 4

To prepare calamari: Pour about 3 inches of oil into a heavy large saucepan or frying vessel of your choice. Heat over medium heat to 350- 365 degrees. Working in small batches, remove the squid from the milk, shake off the excess liquid and toss the squid into the cornstarch mixture and coat evenly. Shake off excess coating before placing in oil. Once to oil is up to temperature, carefully add the squid to the oil and fry until crisp and very pale golden, about 1 minute per batch. Sometimes they will pop and splatter while frying so use a splatter guard to avoid a mess. Using tongs or a slotted spoon, remove the fried calamari from the oil and move to a paper-towel lined sheet pan to drain. Lightly season with sea salt.

Step 5

Serve with lemon wedges and Dynamite Dipping Sauce!