Enchiladas are definitely comfort food here in South Texas!  It seems like everyone has their favorite Tex-Mex spot to grab their favorite enchiladas or Mexican food of choice.  My love of cheese enchiladas goes way back to my childhood.  On Friday nights, my parents always took me out for Mexican food and my order was always cheese enchiladas.
These days our family has a favorite local Mexican food restaurant.  The waitresses know all of us by name (and what we want to order).  I love places like that, you know the ones that when you walk in you just feel like family.  That, and the good food, is what makes you come back time and again.  They have great Tex-Mex comfort food but their enchiladas are incredible.  The Cowboy even orders them for breakfast when we take the girls out on the weekend.  What makes the enchiladas sing is the luscious gravy…oh my gosh, we have been trying to recreate that gravy for years!  Folks this is the closest I have gotten…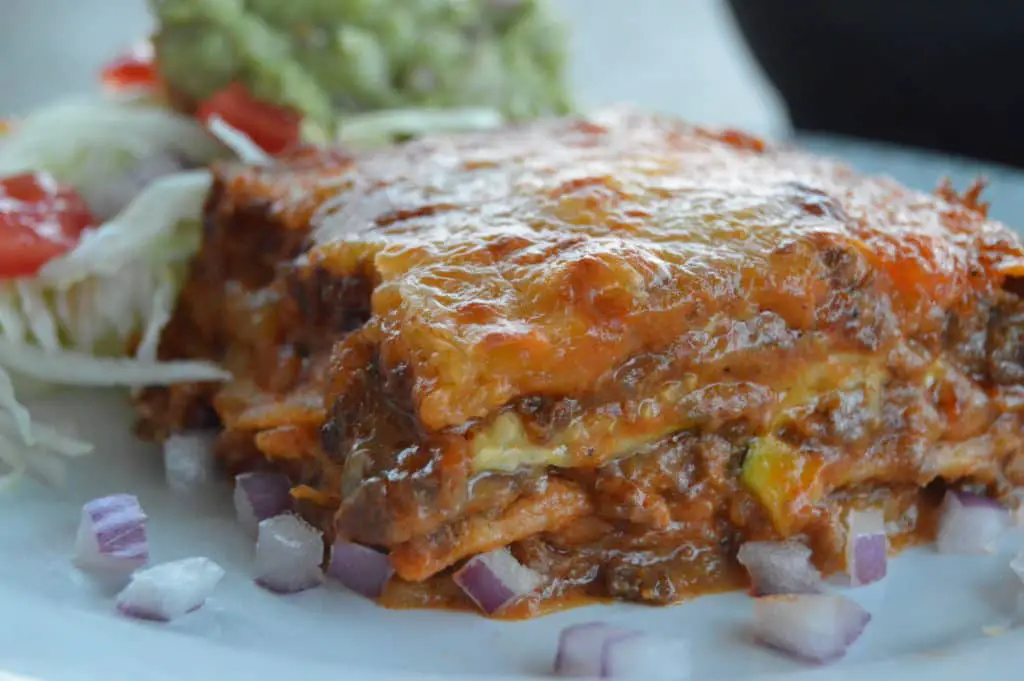 As you know we have been cutting back on starches and carbs, so we don't go out as much as we used to.  Well, after a long weekend, we needed an enchilada fix. So I went to work coming up with a low carb option to satisfy our craving. I borrowed an idea from my low carb lasagna that totally works with these simple ingredients…using thinly slices zucchini as noodles, or in this case…tortillas.  I have had a few vegan Tex-Mex dishes that just work great with the meaty texture of zucchini so I thought I would give it a try.  The result…Tex-Mex Enchilada Casserole…pure awesomeness.
I love lasagna even more with zucchini as the noodles and, I have to say, this Tex-Mex Enchilada Casserole is no exception.  It has all of the delicious, spicy, rich flavors of the best Tex-Mex enchilada layered with zucchini and cheese to create a yummy, satisfying and comforting dish!  The Cowboy had his doubts that this would work (he was willing to try anything to get his enchilada fix), but once he tried it he could not stop eating.  He also uttered the words I had longed to hear for years "this enchilada sauce is so good…I don't know what you did, but I hope you wrote it down.  It tastes like SuCasa".
Be still my heart!  And then the next day he ate the leftovers for lunch…a sure sign of deliciousness!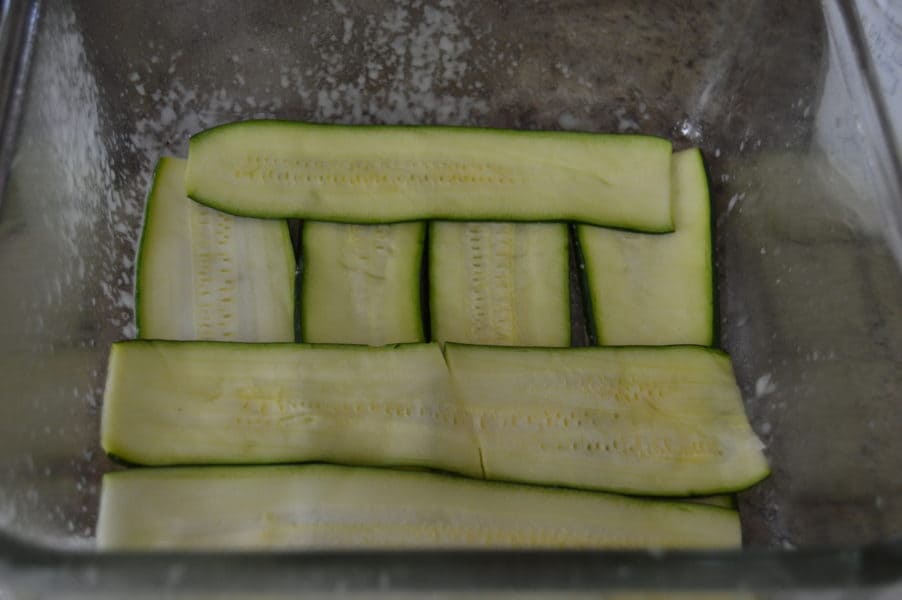 I sliced the zucchini on [amazon_textlink asin='B0045YIOOG' text='my favorite mandoline' template='ProductLink' store='texasgranolag-20′ marketplace='US' link_id='579b6a15-2a2c-11e7-a576-e1581ca68fbd'] to get them uniform and thin.  If you don't have a mandoline, just slice them as thin as you can.  Zucchini have quite a bit of moisture, salting them and letting them sit in a colander helps draw some of it out and prevents your dish from becoming watery.  After you get your ground meat all caramelized and delish, this dish comes together in no time.  If you are looking for a super quick meal, use leftover taco meat.  I always cook up extra of my Tex-Mex Taco Meat to use in recipes like this to make this super quick!  You can substitute 2 cups or about 1 pound of my Tex-Mex Taco meat for the ground meat, onion, and next 5 spices in the recipe.  Just heat the ground meat up in a skillet and continue on to step 4.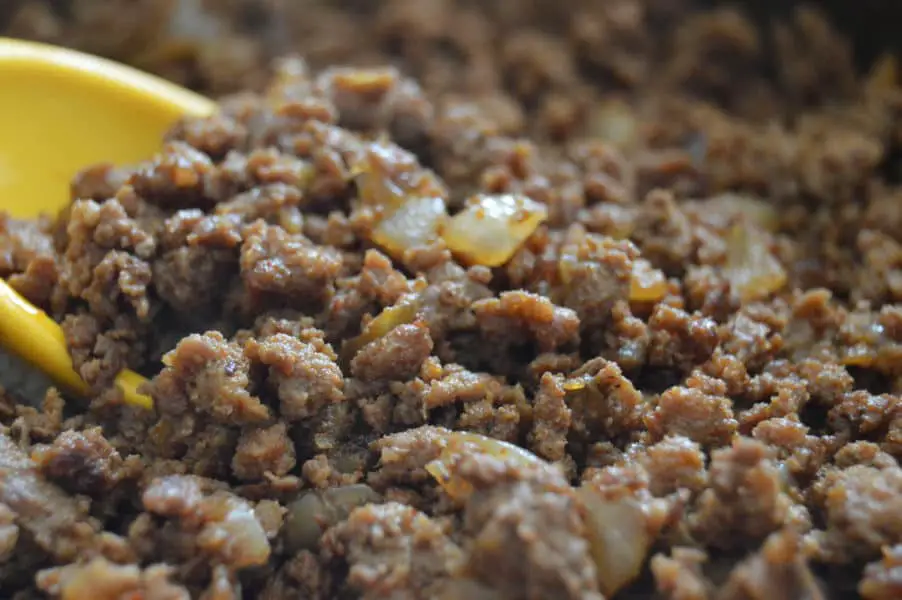 This recipe can be easily made gluten free, but just as a note make sure that your enchilada sauce had "gluten free" printed on it!  Enchilada sauce is one thing I do like to keep on hand for easy week night meals.  Find one that you like with good ingredients, stuff you can pronounce…and stock up!
Serve up with a simple salad of lettuce and tomato with a dollop of  Authentic Tex-Mex Guacamole and you have yourself a healthy, satisfying Tex-Mex meal that would make anyone, carb lovers included, come back for seconds!
Low Carb Tex-Mex Enchilada Casserole
May 11, 2017
: 4-6
: 15 min
: 30 min
: 45 min
: Easy
Tex Mex Enchilada Casserole is my favorite low carb version of yummy, south Texas enchiladas. Serve up with a simple salad of lettuce and tomato with a dollop of authentic guacamole and you have your self one healthy, satisfying Tex-Mex meal...and you will never miss the tortillas! You can get the on the table in no time using leftover taco meat!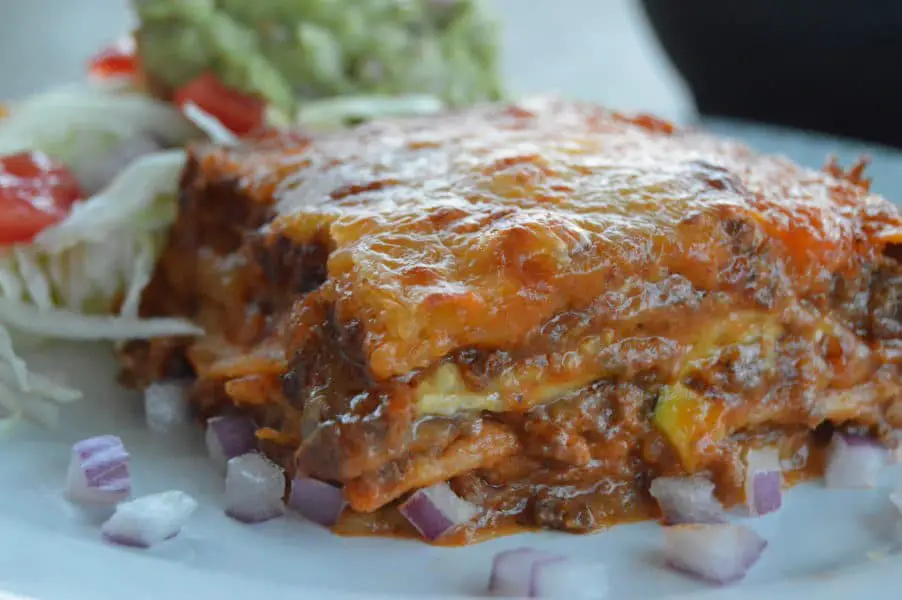 Ingredients
3 large zucchini, sliced lengthwise thinly (1/16 -1/8 inch thick)
1 pound ground meat, venison, pork, beef or turkey**
1 small white onion, diced
1 teaspoon salt
1/2 teaspoon pepper
1/2 teaspoon garlic powder
2 teaspoons chili powder
1/2 teaspoon cumin
1 19oz can of your favorite enchilada sauce ( I have used Old El Paso Mild Red Enchilada sauce or for a gluten free version Victoria Red Enchilada Sauce - Mild)
2 oz cream cheese
1/2 teaspoon garlic powder
2 cups colby jack, cheddar or Monterrey jack cheese
Directions
Step 1

Preheat oven to 375 degrees.

Step 2

Place slices of zucchini in a colander and sprinkle with about 1/2 teaspoon of salt and toss. Let sit for 10-15 minutes while you whip up the sauce.

Step 3

In a large skillet over medium high heat, add ground meat onion, salt, pepper, garlic powder, chili powder and cumin. Cook over medium high heat, working to break meat apart and caramelize mixture, cook 15-20 minutes. The caramelization on the meat is what gives such awesome, flavor to the sauce…so don't rush it.

Step 4

Once the meat is done, turn the heat down to medium and add the sauce and cream cheese. Stir constantly over medium heat until the cream cheese melts into the sauce. Add 1/2 teaspoon of garlic powder and add salt and pepper as needed. Remove from burner and set aside.

Step 5

Take the slices of zucchini that have been sitting and dry them between two paper towels. Now you are ready to assemble!

Step 6

Grease the sides and bottom of a square baking dish (mine was about 8×8). Start by laying 4 slices of zucchini vertically and then on top, 4 slices horizontally. Cover the zucchini slices with sauce (about 1 cup), then sprinkle with about 1/3 cup of cheese (I just eyeball it!). Repeat layers ending with sauce and cheese on top. I usually get 4 layers.

Step 7

Bake at 375 for 20-25 minutes or until bubbly and golden brown. Remove from oven and let cool for at least 15 minutes before cutting. Top with diced onions if desired and serve with lettuce, tomato and guacamole! YUM!!

Step 8

**You can substitute 2 cups or about 1 pound of my Tex-Mex Taco Meat for the ground meat, onion, and next 5 spices.  Just heat the ground meat up in a skillet and continue on to step 4.