King Ranch Chicken has been a staple comfort food dish for me since childhood.  It was always one of those dishes I would hope my mom was making for dinner on the weekend.  As a kid, it always seemed to be a process putting the casserole together but years later, making it for my own family, I realize how simple it really is… and have found ways to plan ahead and cut the prep time.
Now, it being May and hot and humid here in Texas, I typically skip the casseroles for dinner and go for something a little lighter.  It is rare that the Cowboy requests a casserole for dinner, but King Ranch Chicken is one of his all time favorites and according to him, it had been way too long.  He requested it three times in two weeks so I knew this was a serious craving.  For me, this is pure soul satisfying comfort food at its best.  I'm so ready!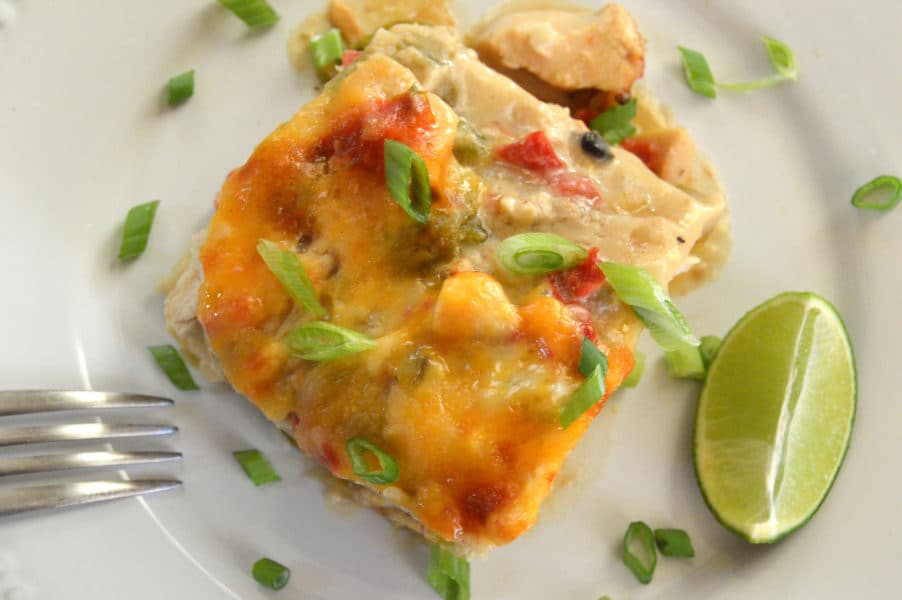 The thing I like about casseroles is I can use up my leftovers and cut my prep time!  I had made roasted chicken for dinner earlier in the week, so I used my leftover chicken for the filling.  You can use a rotisserie chicken, leftover baked or roasted chicken or cook it on the spot.  Typically, I just use chicken breast for this but you can use white or dark…I've even used leftover fried chicken.  If you are roasting or baking off some chicken breasts, it will add about 20-30 to your prep time.
According to all the old church cookbooks I have consulted, King Ranch Chicken is traditionally made with canned soup ( and sometimes cheese food…no thanks).  This is a no, no in my book.  I am not opposed to cream of whatever soup but I wanted a good quality, no junk, gluten free, no funny stuff version.  Pacific Foods makes a Cream of Chicken and Cream of Mushroom that are fantastic.  In addition to tasting amazing, they are organic,  soy free, gluten free, wheat free, and yeast free.  The flavor is robust and savory and light years better than the canned stuff…I mean one of the ingredients is creme fraiche!  I am a believer that when you have a recipe with a few ingredients, use the best you can get for a great result…and boy did I get it!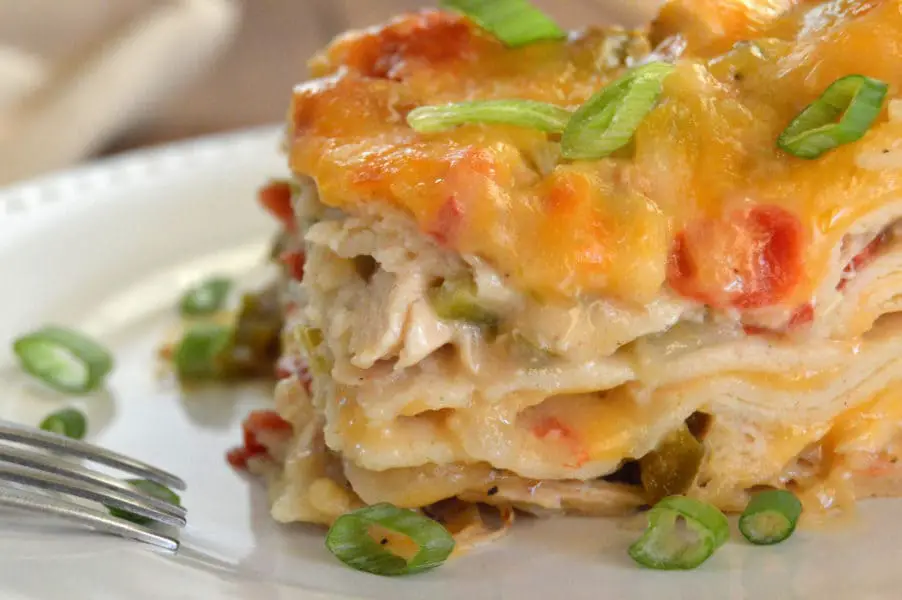 Savory roasted chicken, a mixture of Tex-Mex veggies in a creamy sauce layered with cheese between fresh corn tortillas and baked till bubbly, beautiful golden brown…what could be better?  Did I mention that its gluten free?
The Cowboy ate it with delight on day one…and all he talked about for the next two days was King Ranch Chicken.  I caught him twice eating it cold out of the pan! He ate leftovers for two days and when it was all said and done, all that was left was an empty casserole dish and all he had to say was "that was the best damn King Ranch Chicken you have ever made".  Awww….shucks!
King Ranch Chicken Casserole is super simple to put together and served up with a simple salad and authentic guacamole and you have yourself one yummy meal!
Best Damn King Ranch Chicken Casserole
May 18, 2017
: 8-10
: 30 min
: 45 min
: Easy
King Ranch Chicken Casserole is the perfect Tex-Mex comfort food....creamy, cheesy, and spicy, definite crowd pleaser...and it's gluten free! Serve with my Authentic & Simple Texas Guacamole and Fresh Garlic Salsa for a complete Tex-Mex experience!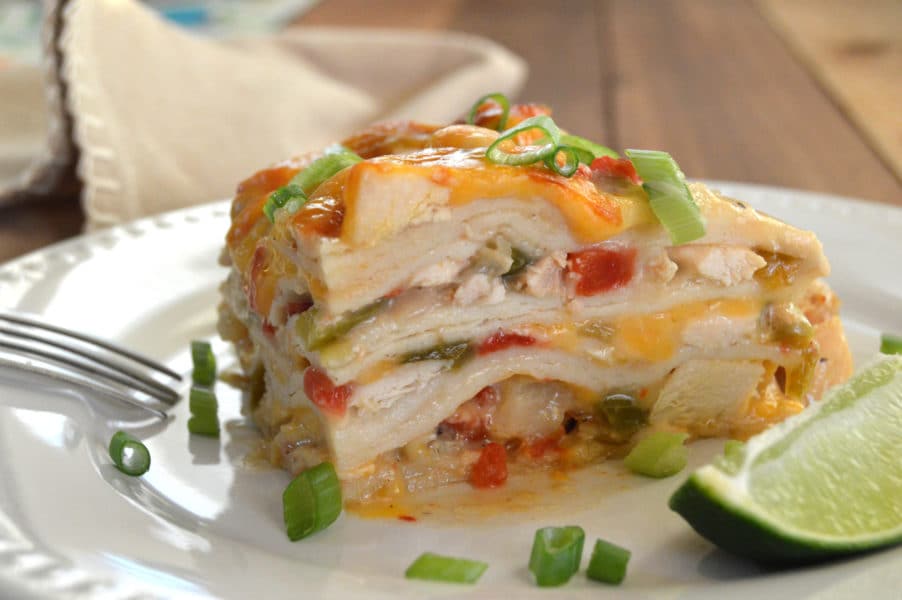 Ingredients
2-3 chicken breasts, cooked & shredded (or diced) or 2 ½ to 3 cups of cooked chicken
2 tablespoons butter
1 medium onion, diced
2 bell peppers, seeded and diced
4 cloves garlic, minced
1-2 jalapenos, seeded and finely chopped (depending on desired heat level)
1 10oz can Original Rotel Diced Tomatoes & Green Chilis, drained well
1 12oz carton Pacific Foods Cream of Mushroom
1 12oz carton Pacific Foods Cream of Chicken
3 tablespoons heavy cream
½ teaspoon black pepper
1/2 tsp cumin
12-15 corn tortillas (if making gluten free, make sure tortilla are gluten free)
2 cups Colby jack cheese, grated
Directions
Step 1

Preheat oven to 350 degrees.

Step 2

Add butter to large skillet over medium high heat. When butter melts, add onion and bell pepper. Cook for 5-7 minutes until softened. Add garlic and cook for 2 more minutes. Remove from heat.

Step 3

To a large bowl add cooked chicken, Rotel, chopped jalapeno, both soups, cream, pepper, and cumin. Stir well to combine. Add cooked veggies and stir to combine.

Step 4

You are ready to assemble! Butter or spray a deep 9×9 casserole dish. Start with a layer of tortillas. Cut 2 tortillas in half and place the cut side along the edges of the pan and place one hole tortilla to cove the hole in the center. Spoon about 1- 1 ½ cups of the chicken mixture on top of the tortillas and spread evenly. Top with ½ cup of shredded cheese…now tortillas…you may have to cut a few to fill in the holes in the corners.

Step 5

Repeat layers ending with chicken mixture and cheese on top. Bake at 350 for 35 -40 minutes or until bubbly and golden brown. Check after 25 minutes, if cheese is getting too brown, lay a piece of foil over the top.

Step 6

Let sit at least 15-20 minutes before cutting. Keep leftovers in container tightly sealed and refrigerate. It is even better the next day!

Step 7

You can also bake it off the day before serving, refrigerate and reheat before serving. To reheat, cover with foil and bake at 300 for 45-50 minutes or until heated through.