Pinto beans are a staple food in Texas, especially here down south. They are hearty, filling, good for you and super cheap! That being said, it seems like everyone has their own special recipe…or at least their own opinion when it comes to their preferred pinto beans. I will say that there are times that I appreciate the complex bean recipe, but most days I like to keep it simple and these Slow Simmered Pinto Beans are perfect with just about anything from smoked brisket to chicken tacos or even spinach enchiladas.
The Cowboy and I have gone round and round…for years…about the perfect beans. He used to insist on making them because he didn't care for my additions. In the beginning, he liked just pinto beans, water and salt…that's about as simple as you can get but it's also incredibly BORING! We went through a phase were we added ham, bacon or even a smoked jowl but the bacon always was soggy and the addition of ham or jowl made it more like a meal…which is incredibly delicious (and a completely different post)…but we were searching for the perfect side dish.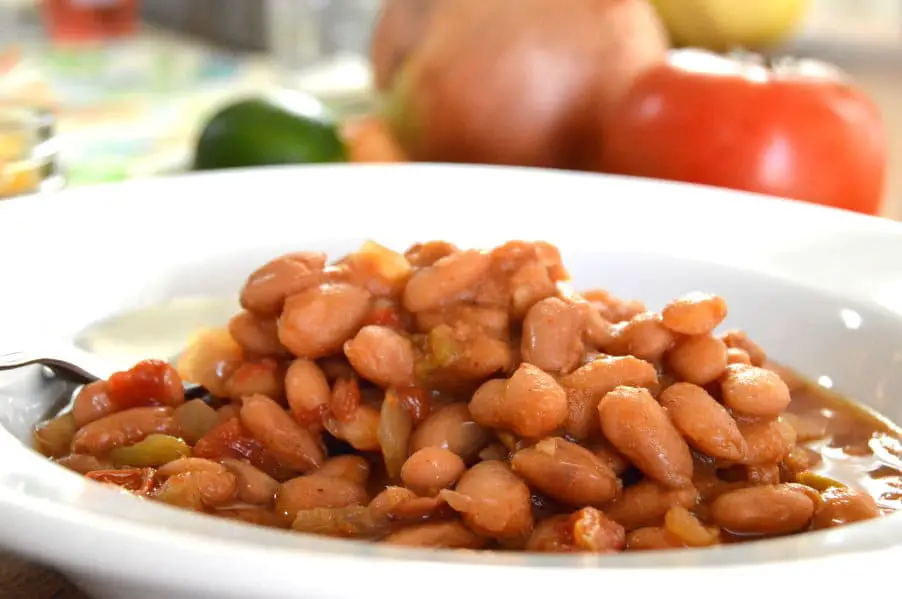 Well, after a weekend of hard work shredding at the ranch, I decided to through on a pot of beans to go with some chicken that we were smoking. Maddie happen to be in the kitchen with me and reminded me to measure out what I was doing and volunteered to be my scribe….I love when she does that! I quickly measured everything out, threw it all in a pot, put it on the stove, turned it on and walked away.  About 6 hours later I realized I never checked on them but it was too late…time for dinner! As we all sat down to the table, the Cowboy took his first bite of beans and said "I hope you wrote this down because these beans are perfect". SCORE! Since then we have made beans for a few BBQs and cookouts and he has insisted on using MY recipe, which it HUGE!
I know…why not use a slower cooker or pressure cooker? I do have both…and I love them…but I prefer my beans on the stovetop. Sometimes (often), I just get lazy and I don't want to have to lug my big slow cooker out to cook a pound of beans and while I love the speed of the pressure cooker, I like the texture and consistency better on the stove.
Ok…you're supposed to soak beans…yeah, I know. Truth be told, my granny didn't soak hers, my mom doesn't soak hers, and I never soak mine…I know a lot of people do and it will decrease cooking time but I just never learned that way or think that far in advance!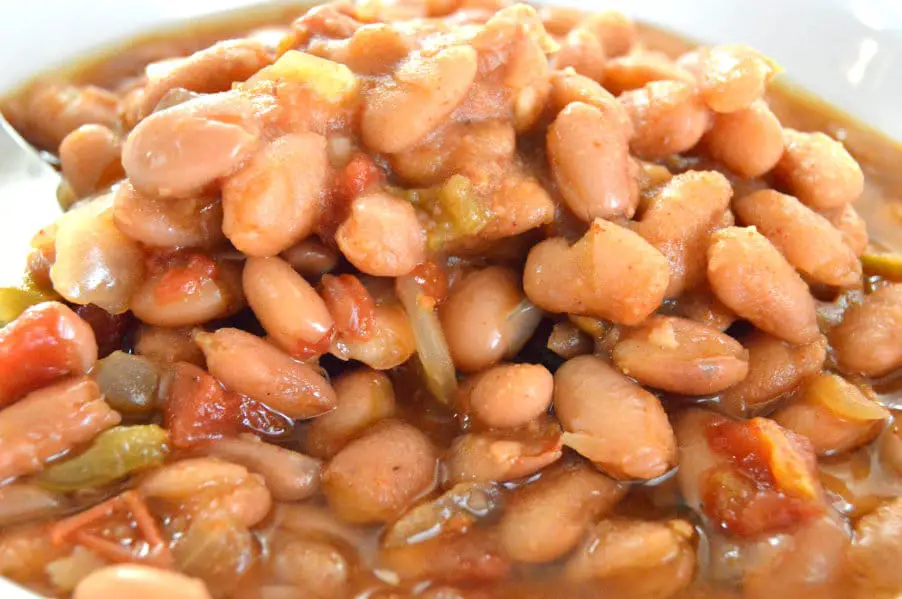 Like so many dishes, I do have to say that these beans are better the next day and we always use leftovers to make refried beans for taco night or breakfast…and let me tell you, they are super quick and easy and to die for! The recipe will give you about 8 cups of beans which is enough for leftovers, to add to your favorite burrito bowl for lunch, or to make the most incredible refried beans ever! Refried bean instructions coming soon, meanwhile cook up a pot of these yummy pinto beans to go along with all your summer BBQ's and cookouts!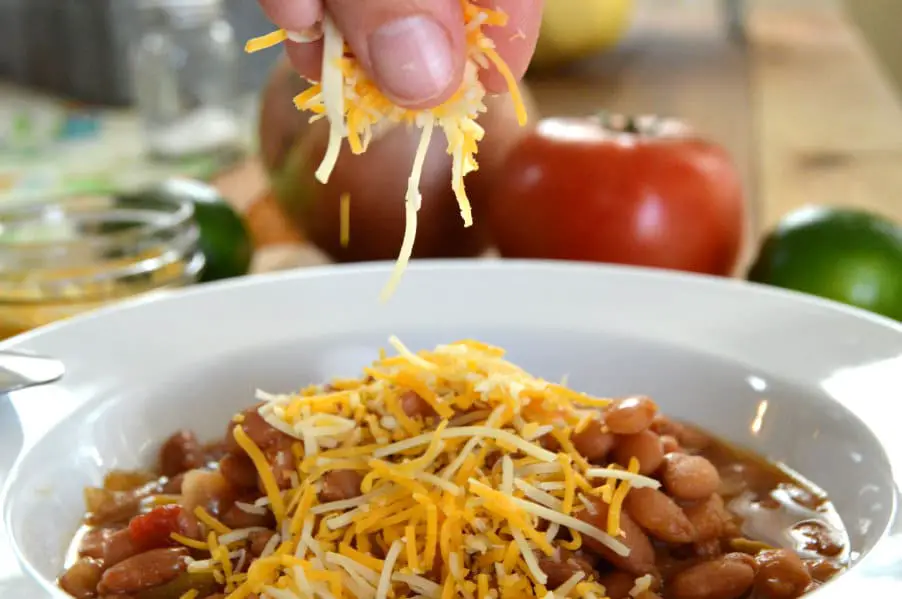 Do you like toppings on your pinto beans? What is your favorite? Maddie loves cheese and sour cream!
Slow Simmered Pinto Beans
July 5, 2017
: Yields about 8 cups
: 10 min
: 4 hr 30 min
: 4 hr 4 min
: Easy
Slow Simmered Pinto Beans are a Texas staple and are the perfect side to just about any meal from BBQ brisket to spinach enchiladas. Leftovers are great in a taco or burrito bowl and make incredible refried beans!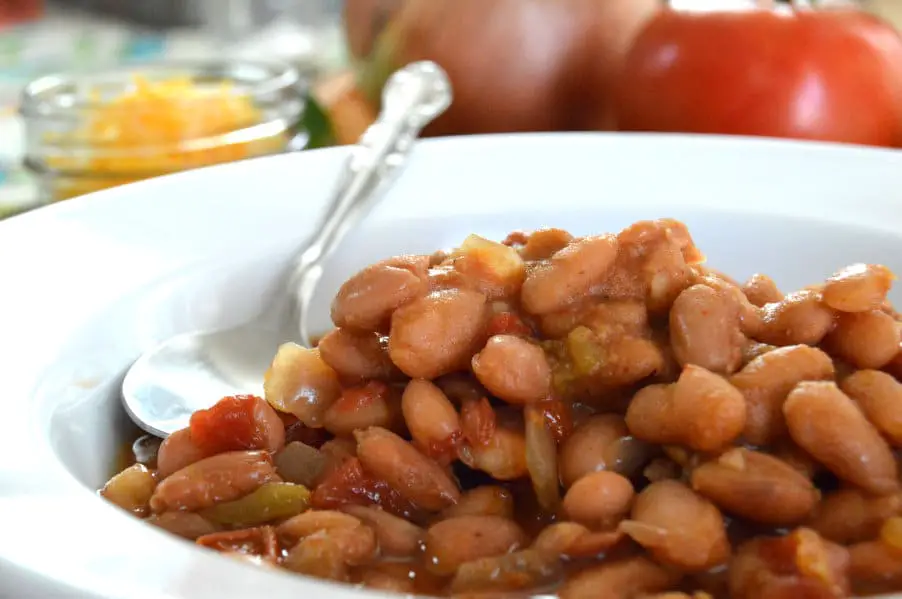 Ingredients
1 ½ lb dried pinto beans, picked through and rinsed
16 cups of water
½ tablespoon garlic powder (granulated)
1 ½ - 2 tablespoons kosher salt
½ tablespoon pepper
1 tsp paprika
1 tsp onion powder (granulated)
1 medium yellow onion, diced
2 teaspoons chili powder
½ teaspoon cumin
1 10oz can Rotel (original or mild)
Directions
Step 1

Place dried beans in large pot and add 16 cups of water. Then add onion, rotel and remaining spices, including the salt and pepper. Bring to boil, then reduce heat to low and simmer until beans are tender, about 5 hours.  If you let them go a little longer like I did, it just makes them more tender!

Step 2

Serve them up with any topping you desire. Store leftovers in an airtight container in the fridge. Don't know what do do with your leftovers…try making my refried beans!