A great coleslaw is a great thing to have in your recipe arsenal…especially during the summer time!  Classic Southern Coleslaw is the ultimate side for some of your favorite summer meals!  Creamy, cool, tangy and crunchy, it compliments a ton of dishes from BBQ brisket or chicken to fried chicken or fish.  My favorite use for this creamy coleslaw is for a topping on a sandwich or taco, like these Blackened Shrimp Tacos!
To save time, I use pre-cut cabbage, or coleslaw mix, most days.  Coleslaw mix is one of those things I keep as a staple in my fridge because I can do so much with it and it is relatively inexpensive.  I also mix my cabbage with broccoli slaw which adds a great crunch and texture to the slaw.   Our grocery store also carries one with shredded Brussels sprouts that I love but the girls and the Cowboy like the broccoli, so I stick with it…you know, I am not even sure if they know there is broccoli in it!  I make the coleslaw a few hours ahead of when I am going to serve it so it can mix and mingle with the dressing…don't worry it will stay nice and crunchy!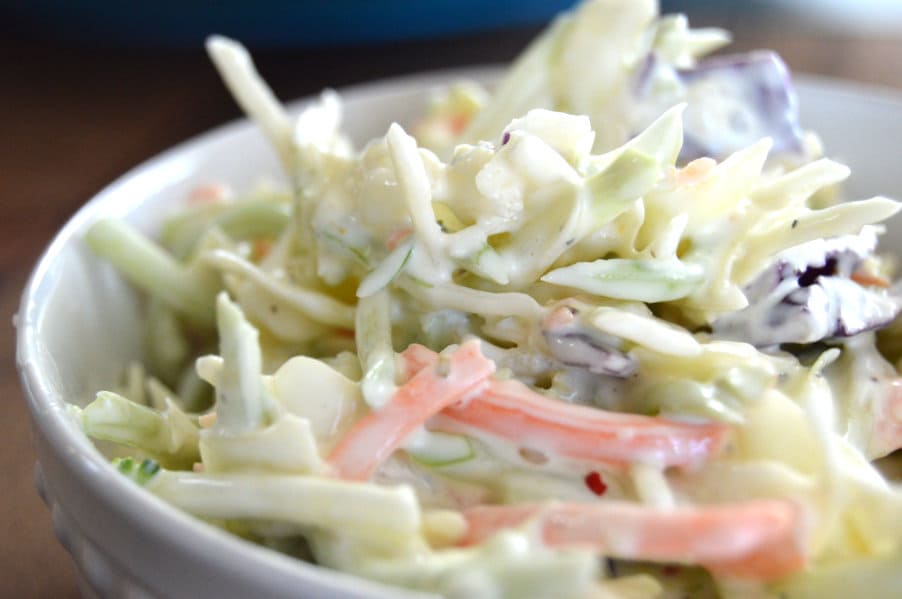 It wasn't till I made my own coleslaw dressing that I finally realized that my childhood hatred of creamy coleslaw was really a hatred of the super sweet bottled coleslaw dressing!  This dressing is cool, creamy, tangy and not too sweet thanks to the sour cream.  If you like your dressing more on the sweeter side feel free to add more sweetener!
Coleslaw is a simple thing…but done right, it is fantastic…and this folks, is how a classic Southern coleslaw should taste!  It wasn't until a friend of ours, who refers to himself as a "coleslaw connoisseur", told me how great my coleslaw was that I realized that I had something special!  He deemed it "best coleslaw ever"…I hope you'll agree!
Classic Southern Coleslaw
July 1, 2017
: 6-8
: 10 min
: 10 min
: Easy
This is a great coleslaw recipe to have in your recipe arsenal. Creamy, cool and crunchy, perfect for your next BBQ or fish fry!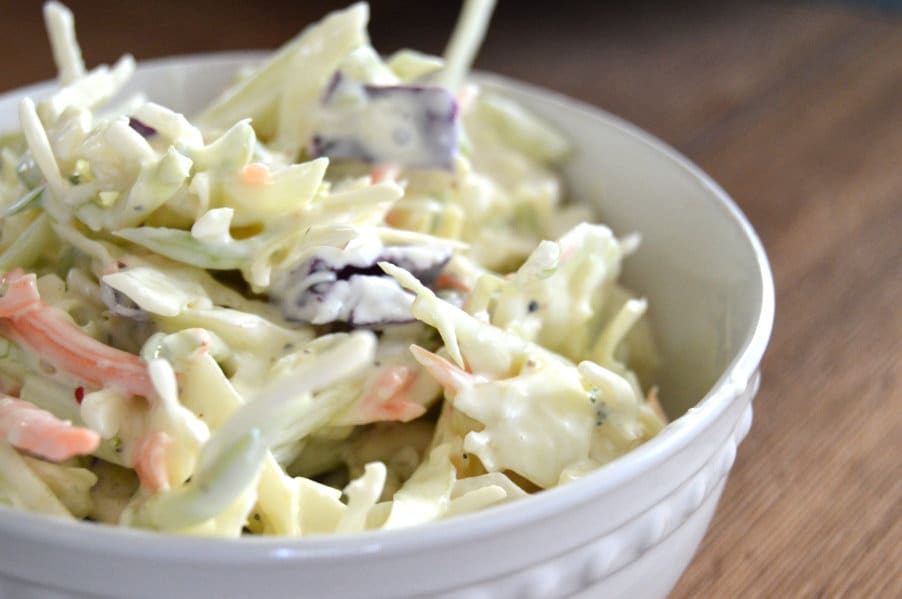 Ingredients
14 oz package shredded cabbage or coleslaw blend
12 oz package broccoli slaw
Dressing
1/2 cup sour cream
1/2 cup mayonnaise (your favorite)
1 1/2-2 tablespoons sweetener of choice (or equivalent)
1 1/2 tablespoons apple cider vinegar
1/2 tablespoon mustard
1/2 teaspoon kosher salt
1/4 teaspoon pepper
1/4 teaspoon onion powder (granulated)
1/8 teaspoon garlic powder (granulated)
Directions
Step 1

In a small bowl, combine all dressing ingredients and whisk together till smooth and sweetner is dissolved.

Step 2

In a large bowl, combine cabbage and broccoli mixes with dressing and toss to combine. Refrigerate at least 30 minutes before serving to let all the flavors mingle!