I have to admit, I am a frittata fanatic.  The Cowboy…not so much.  The texture of baked eggs is just not his thing but, I believe in my heart of hearts, that this frittata could forever change his mind.  I know it's just eggs and a few ingredients baked together…but folks, this combination of simple ingredients is incredible! Roasted red peppers and caramelized onions pair together with Fontina cheese for this simple version of a frittata that will knock your socks off!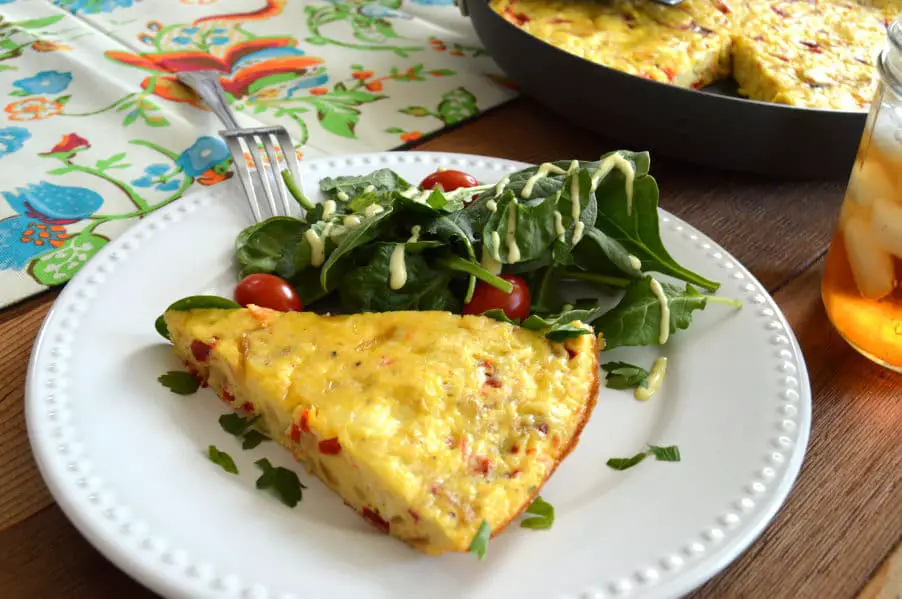 There are so many reason to love a frittata…they are breakfast, brunch, lunch or dinner, cheap, super easy, quick, use up leftovers and spare fridge ingredients and they are a true one pan meal.  I love that I can put just about anything into a frittata and it's delicious.  Using the leftovers from the weekend I typically through on together on Sunday to eat for lunches or breakfast through the week, but this week I really didn't have much leftover to through in, but I did have a couple bell peppers and I always have onion.  I also had a wedge of fontina cheese that needed to be used up so this Roasted Red Pepper and Caramelized Onion Frittata was born…and boy, is it a show stopper!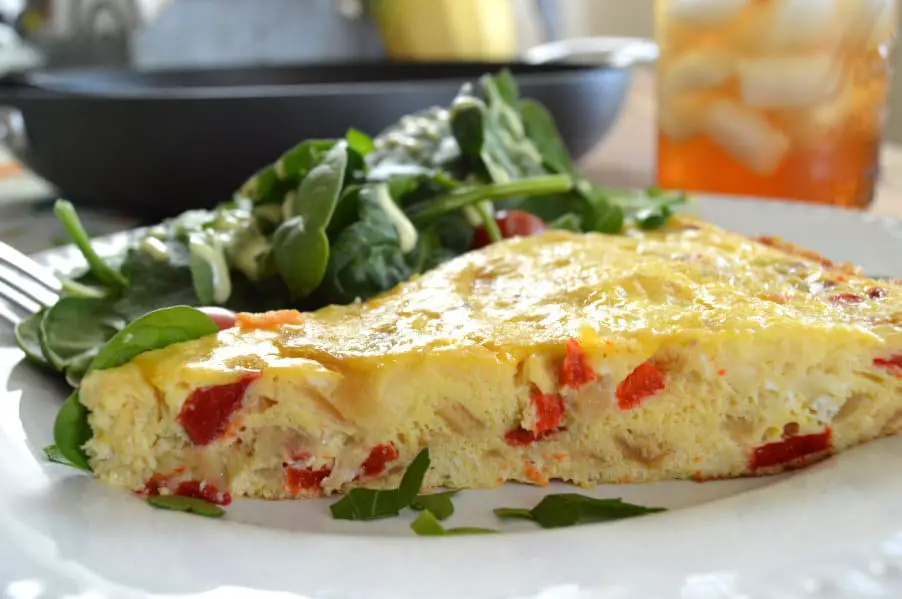 Roasted red peppers and caramelized onions add a richness, savoriness and a little sweetness that is just off the charts paired with the fontina cheese.  Roasting red peppers in the oven is super simple and easy and is a great way to use up bell peppers in the fridge.  You can also use jarred roasted peppers.  Want to know how to roast your own peppers…click here.  I adore…ADORE caramelized onions.  They just seem to make everything better. Caramelizing the onions correctly takes a little time…but the payoff is huge and it is something that you really don't want to rush.   If you happen to have caramelized onions in the fridge leftover or if you caramelize them ahead of time,  this can be a quick 20 minute dish!  How exactly do you caramelize onions? Click here for detailed instructions.
Frittatas are simple to put together and to cook, the ultimate one pan meal!  Just make sure you don't overcook it…you don't want the top to brown…the result will be a dry frittata…yuck!  Just keep and eye on it and your attention will be rewarded with a melt in your mouth, creamy, delicious roasted red pepper and caramelized onion frittata that will keep you looking forward to lunch time all week long.
Roasted Red Pepper & Caramelized Onion Frittata
June 27, 2017
: 8-10
: 5 min
: 55 min
: 1 hr
: Easy
Roasted red peppers and caramelized onions pair together with Fontina cheese for this simple version of a frittata that will knock your socks off!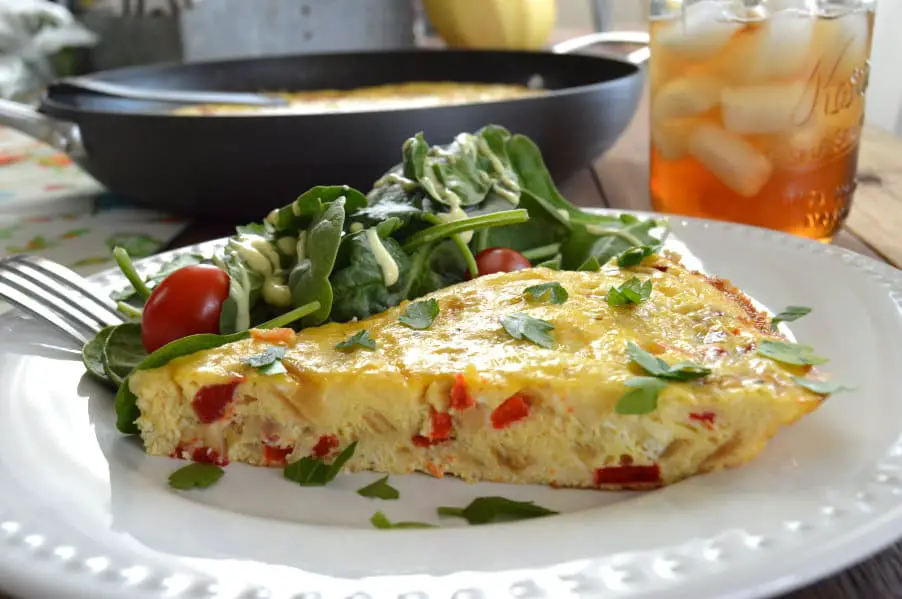 Ingredients
1 tablespoons butter
12 large eggs
1/2 cup sour cream
2 teaspoons salt
1 teaspoon pepper
1/2 cup roasted bell pepper (heaping), about 2 peppers
2 large yellow onion, halved and sliced into 1/4 inch strips
1 1/2 cup Fontina cheese, shredded
Directions
Step 1

Preheat oven to 350 degrees.

Step 2

Melt butter in a 12 inch nonstick skillet* over medium -low heat and add onions. Cook onions until softened and caramelized, about 40 minutes.

Step 3

While the onions are cooking, combine the eggs, salt, pepper, sour cream, and cheese in a large bowl and mix well to incorporate. Do not mix too vigorously…you don't want too much air in your eggs.

Step 4

When the onions are caramelized spread them around the pan in an even layer. Sprinkle the roasted red pepper evenly over the onions.

Step 5

Pour the egg mixture over the veggies. Continue to cook over medium low heat for about 3-5 minutes until the eggs start to come away from the side of the skillet. Then place the skillet in the oven for 15-17 minutes or until eggs are set. The top should not be brown and eggs should be custardy and just set.

Step 6

You will cook the frittata in this skillet. I used a 12 inch skillet but you could use a 10 inch. Cooking time in the oven will be longer. Also, you will be putting this skillet in the oven so make sure it has an oven proof handle.