Loaded Pizza Bars are one of our favorite kid-friendly low carb/keto creations and one that my daughter requests over and over again.  Packed with veggies, protein and healthy fats, Loaded Pizza Bars are great for a quick lunch and can be easily made ahead of time during your weekly meal prep.
Since the holidays, we have made it a goal around here to eliminate processed foods and sugar/carbs and increase our veggie intake. For years I have eaten low carb and always seem to feel so much better when I do. After a ton of research, and in an effort to heal my body from years of health issues and dieting and live the healthiest life I can live, I have embraced the KETO / LCHF lifestyle. My oldest daughter has made the choice to "eat like me" which has some great health benefits for her and we have tons of fun coming up with inventive ways to recreate our favorite foods.
Pizza is a favorite food around here. In my past low carb days, I was the girl who would scrape all the topping of the pizza crust, chunk the crust in the trash and chow down on all those lucious toppings…my mouth is watering! Well, being gluten free, that is now a no-no!! These days our favorite pizza alternative, kids included, is a cauliflower crust pizza. We are just bonkers for cauliflower around here…even my 8-year-old is on board the cauliflower train! The Cowboy…well not so much…he definitely prefers a non-veggie crust. Well, if you have ever made a cauliflower crust you realize that they are a bit of effort and well, sometimes pizza needs to be effortless…so these Loaded Pizza Bars were born!
You can really customize these with any toppings you like, but around here we love veggies so we pile them on. If you are looking for a way to maybe sneak some veggies in for the kids these are a perfect solution. We loaded these up with spinach, onions, bell pepper and olives along with some pepperoni and Italian sausage and of course ooey, gooey mozzarella cheese!! Instead of a crust, we used a few eggs combined with some sundried tomato pesto to give us a pizza sauce flavor and hold all those yummy toppings together…the finished product…absolutely scrumptious! Dip in your favorite low sugar pasta sauce or in some homemade ranch. Around here its doesn't get much better than these! Also, great to pack in lunch boxes!
As made these bars have about 10.6 grams of fat, 8.7 grams of protein and 1.7 total carbs per bar
Looking for more low carb options, try out my Jalapeno Mexican Fudge!!
Loaded Pizza Bars
March 5, 2018
: 10 min
: 20 min
: 30 min
: Easy
Loaded Pizza Bars are one of our favorite low carb creations. Packed with veggies, protein and healthy fats, Loaded Pizza Bars are great for a quick lunch and can be easily made ahead of time during your weekly meal prep. Perfect for lunchboxes!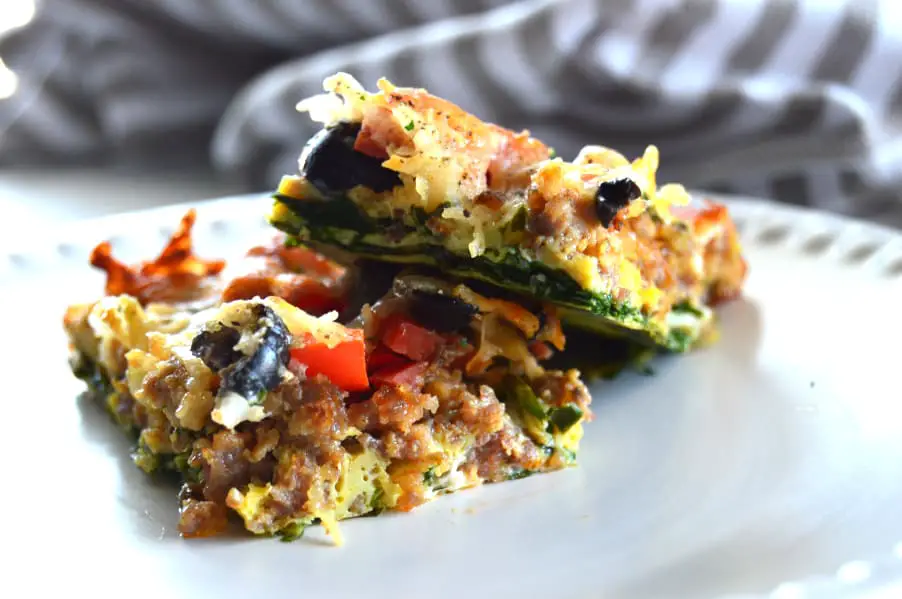 Ingredients
2 cups fresh baby spinach
1 cup browned Italian sausage (about 3 links)
¼ cup diced bell pepper
1 2.25 oz can sliced black olives
2 ½ T. diced purple onion
2 oz sliced pepperoni, diced
1 ½ cups shredded mozzarella cheese
2 T. shredded Parmesan cheese
5 large eggs, beaten
1 T. sundried tomato pesto, optional (your favorite or homemade)
¼ tsp. granulated garlic
Directions
Step 1

Preheat oven to 400 degrees. Grease or spray and line a 9×9 square pan with parchment making sure the parchment hangs over two of the pan edges. Spray, grease or butter the bottom of the parchment.

Step 2

Spread fresh spinach over the bottom of the pan. Sprinkle Italian sausage over spinach. Continue layering next 6 ingredients.

Step 3

Combine beaten eggs with pesto, if using, and garlic powder and whisk till combined. Pour egg mixture evenly over the toppings in the pan.

Step 4

Place in oven and bake 15-20 minutes or until cheese is melted and bars are set. Allow bars to cool in pan about 20 minutes. Run a knife along the sides to loosen bars from the pan. Using the parchment, lift the bars out of the pan and onto a cutting board, slice into 12 bars. Serve warm or room temperature with your favorite pasta sauce or ranch and enjoy!