I typically like a lighter breakfast, but I will always make an exception for Eggs Benedict.  It is one of my favorite splurge breakfasts, the hollandaise, the poached egg…it's just uncious and wonderful.  I have seen hundreds of versions and I have not had one yet that I didn't love.  The Cowboy…well, he's not a fan.  So I came up with a version, he is proud to call his own… Cowboy Style Eggs Benedict.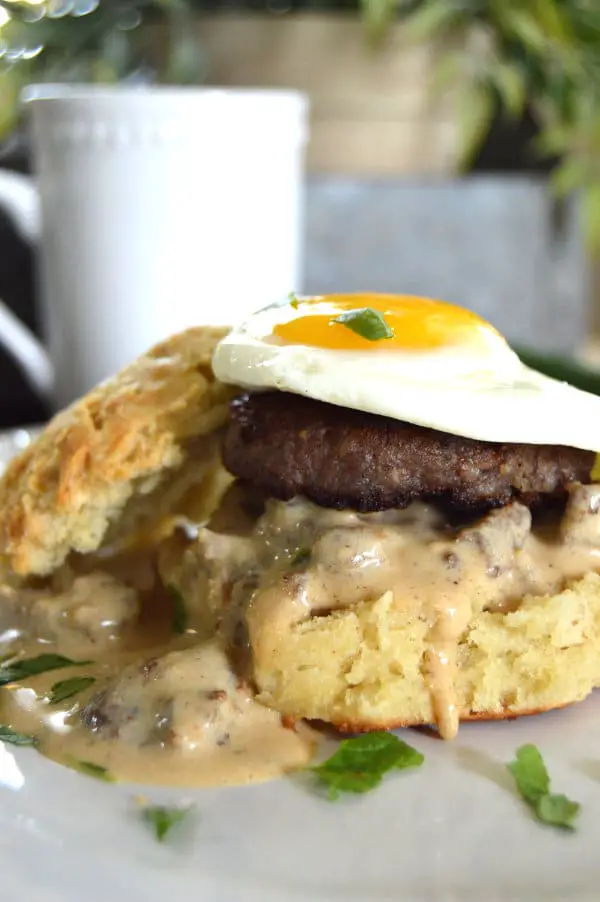 This version of eggs benedict is just up the Cowboys alley!  I replaced the traditional English muffin with my favorite buttermilk biscuit, gluten free of course and topped the biscuit with Jalapeno Sausage Sawmill Gravy.  Then replaced the Canadian bacon with a crispy sausage patty, just the way the Cowboy likes them.  Then I topped the sausage with sunny side up egg.  I have to say I ws pretty impressed at the final product!  This combination will blow your mind…just ask Maddie.  She couldn't wait for me to stop taking picture so she could dive in!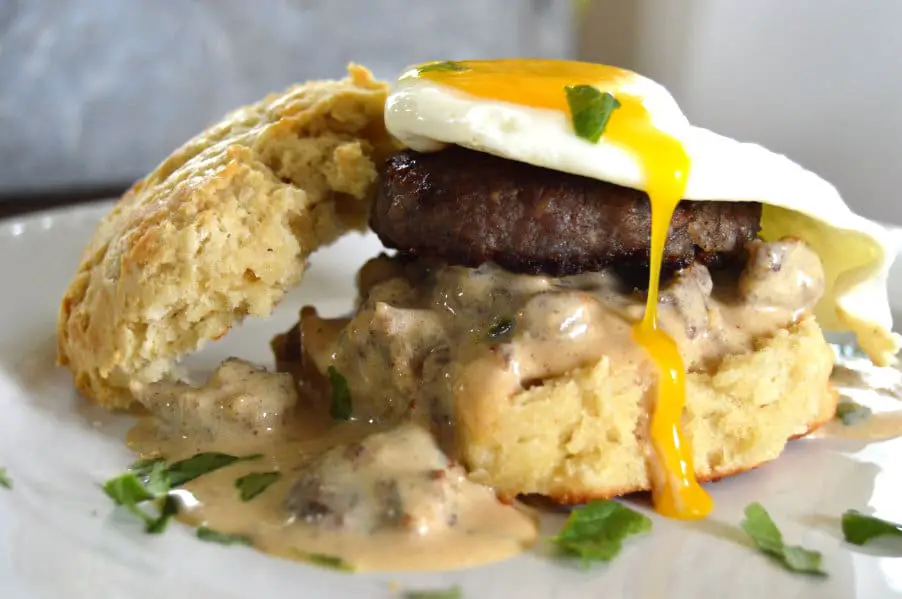 Oh, lord!  I am a sucker for a runny egg!  I couldn't stop taking pictures of this gorgeous and yummy sight!
Don't like runny eggs"  No problem…scrambled would be delicious as well!
This is not really a recipe but a method, that being said, if you want to impress some guests for breakfast or brunch, or even just your husband and kids, this would be a great recipe to pull out of your hat.  Serve it up with hash browns or even fruit, it's a definite show stopper.
Are you a "benedict" lover?  What is your favorite combo?
Cowboy Style Eggs Benedict
July 9, 2017
: 6
: 45 min
: Easy
Cowboy Style Eggs Benedict is more assembly instructions than a recipe. The components to the dish are linked above in the text. This dish is nothing short of delicious! Buttermilk biscuits, crispy sausage, jalapeno sawmill gravy and runny egg all ads up to an amazing breakfast...and all gluten free!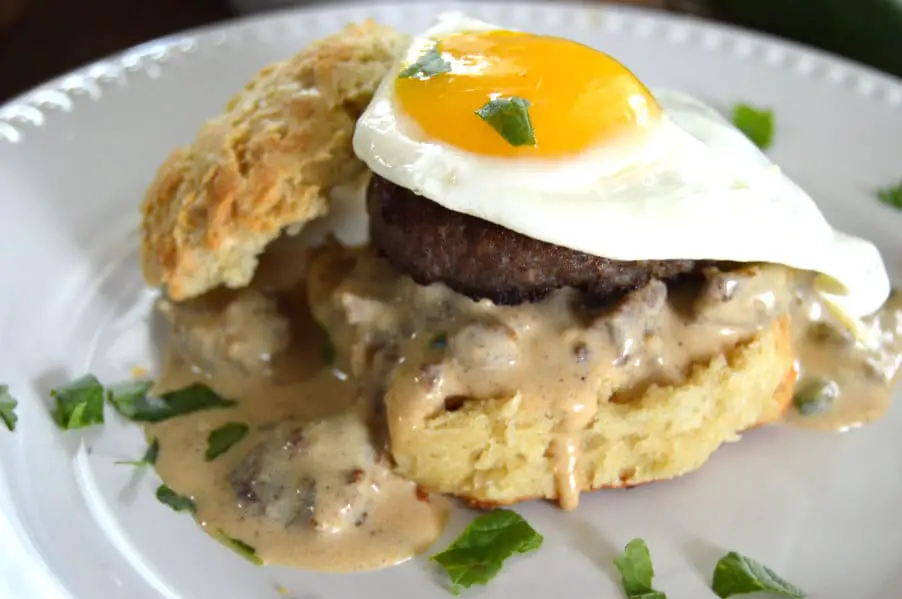 Directions
Step 1

Prepare biscuits dough and get them in the oven. While biscuits are baking, cook the sausage patties. Set sausage aside on a paper towel line plate.

Step 2

Remove biscuits from oven. In the same pan as you made the sausage patties, prepare the jalapeno sausage gravy. While gravy is simmering, go ahead and fry (or scramble) your eggs.

Step 3

To assemble:  Split biscuit in half, spoon gravy over one half of the biscuit, top with sausage and an egg…easy peasy!!

Step 4

Serve immediately with fruit or potatoes!