The Cowboy's favorite breakfast of all time is biscuits and gravy.  Sure, on Sunday mornings we make eggs, bacon, potatoes and all the fixins but the first thing that goes on his plate is a biscuit with sawmill gravy poured all over the top…it is the ultimate breakfast comfort food…at least in this house!
Gravy is serious business in our house.  The Cowboy and I have spent years razzing each other about the others different gravy making methods…truth be told, they are both delicious.  These days on Sunday mornings, the gravy making is done by the Cowboy, but this Jalapeno Sausage Sawmill Gravy is all me.  Since going gluten free gravy has been off the breakfast menu but with this gluten free, kicked up version, its back baby!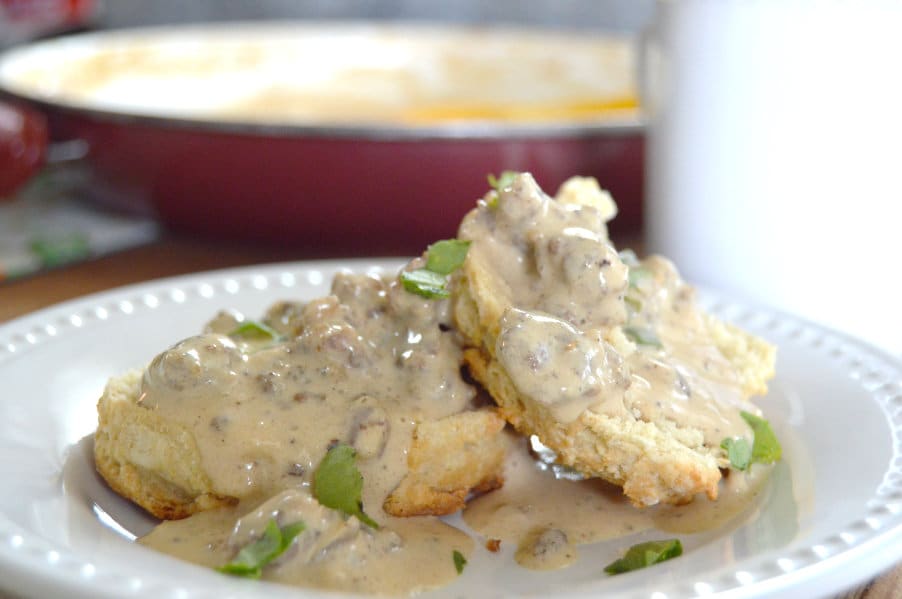 Sawmill gravy is milk based and is typically made with pork sausage…it's a Southern staple.  We typically have it on biscuits (I love it on my breakfast potatoes) but I have also seen it served over grits and the Cowboys' dad pours it over his pancakes instead of syrup! This version of sawmill gravy is dressed up a bit with the addition of a little onion and some diced jalapeno for some heat and some extra flavor.  I promise, you won't be able to stop licking the spoon!
If you are using store bought sausage, make sure to get a good quality sausage that doesn't have a bunch of junk. There are lots of great options for pork bulk sausage in stores these days that don't use a bunch of artificial flavors, MSG and fillers…just make sure it states "gluten free".
If you do have homemade sausage in the freezer, feel free to use that as well!  If it is straight venison sausage it may be a little lean and you may have to add some fat to the pan to make your gravy.  If you save your bacon drippings, this would be a great place to use them! If you are cooking sausage patties, you can simply make the gravy in the same pan.  The drippings and yummy stuff in that pan will make your gravy delish!
Jalapeno Sausage Sawmill Gravy takes the classic pairing of biscuits and gravy and catapults in into another world of awesomeness.  Did I mention that it is gluten free?  This gravy poured over my favorite gluten free buttermilk biscuits is pure heaven.
If you like biscuits and gravy, you are going to fall in love this Cowboy Style Eggs Benedict!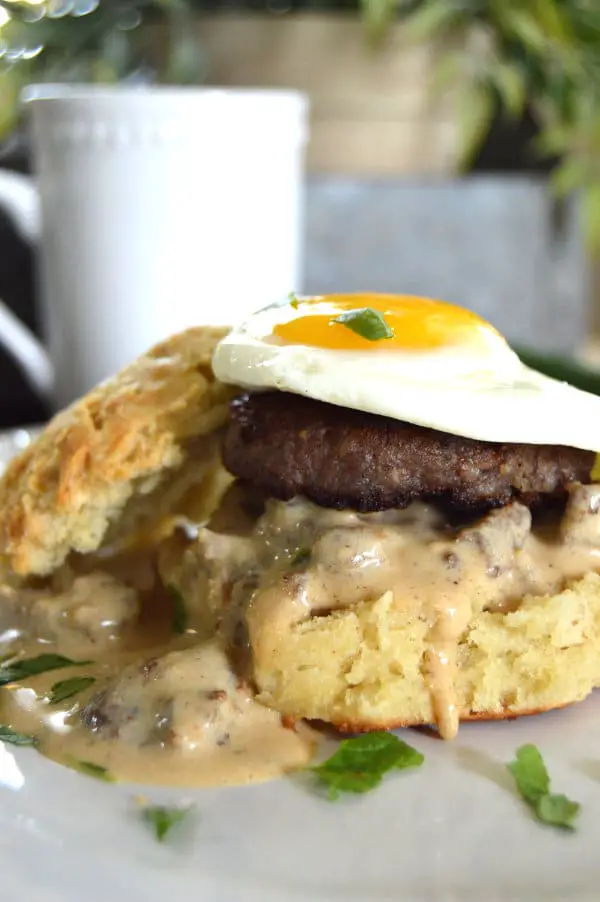 Jalapeno Sausage Gluten Free Sawmill Gravy
July 9, 2017
: 4-6
: 5 min
: 10 min
: 15 min
: Easy
Jalapeno Sausage Sawmill Gravy takes the classic pairing of biscuits and gravy and catapults in into another world of awesomeness. Serve this gluten free gravy over biscuits, toast, potatoes or a boot...I guarantee it will be amazing!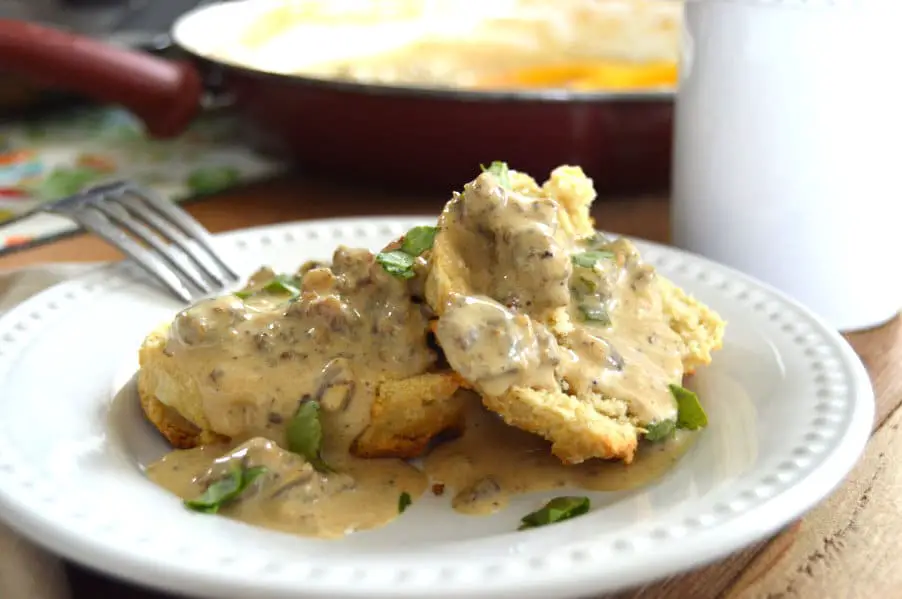 Ingredients
1/4 pound of bulk all natural breakfast sausage, gluten free
3 tablespoons finely diced red onion
1-2 jalapenos, seeded, deveined and finely diced**
2 tablespoons gluten free all purpose flour (I used King Arthur here)
1 12oz can evaporated milk
1/3 cup water or milk
2 tablespoons heavy cream
Salt and pepper to taste
Directions
Step 1

In a large skillet over medium high heat, crumble sausage and brown, breaking it up into small pieces. (If I am making sausage patties as well, I make them first, then use the pan to brown up the sausage for the gravy…more flavor!)

Step 2

Once sausage is browned up, you should have about 2 tablespoons of fat. If you have more, remove some fat. If you have less, add a little bacon fat or oil. Add onion and jalapeno. Cook for 2-3 minutes.

Step 3

**You may want to check the heat of your pepper. If you want more heat, add more jalapeno, I used 1. If my pepper was really hot, I would only add a half. The heat level is up to you.

Step 4

Turn heat down to medium. Sprinkle flour over the sausage mixture and stir to completely mix in the flour. Cook for 1-2 minutes stirring constantly.

Step 5

Add evaporated milk and water/milk, stirring constantly and scraping the bottom of the pan to get up all the yummy browned bits. As the gravy comes to a simmer, it will start to thicken. Keep stirring.

Step 6

Once the gravy comes to a simmer, add cream and keep simmering for 2-4 minutes or until it reaches the consistency you like. Salt and pepper to taste.

Step 7

If the gravy gets too thick, add little water or milk. If it is too thin, simmer a little longer. This gravy will not firm up like a traditional flour based gravy and will stay really smooth.

Step 8

Serve over biscuits, potatoes, toast, or a boot…I guarantee it will be delish!