Making biscuits around these parts is like a right of passage.  It was one of the first things I remember baking with my mom.  She always liked her biscuits thin and kind of crispy.  As I got older I came up with my own favorite recipe and method and started making them with my girls.  So when I went gluten free, one of the first things I had to figure out how to make were biscuits.  I have baked lots of biscuits over the past few months but I finally came up with a great gluten free buttermilk biscuit…fluffy inside, crispy outside, and great flavor with no weird or gritty texture.  These biscuits are easy to make and you don't event have to mess up your counter to roll them out!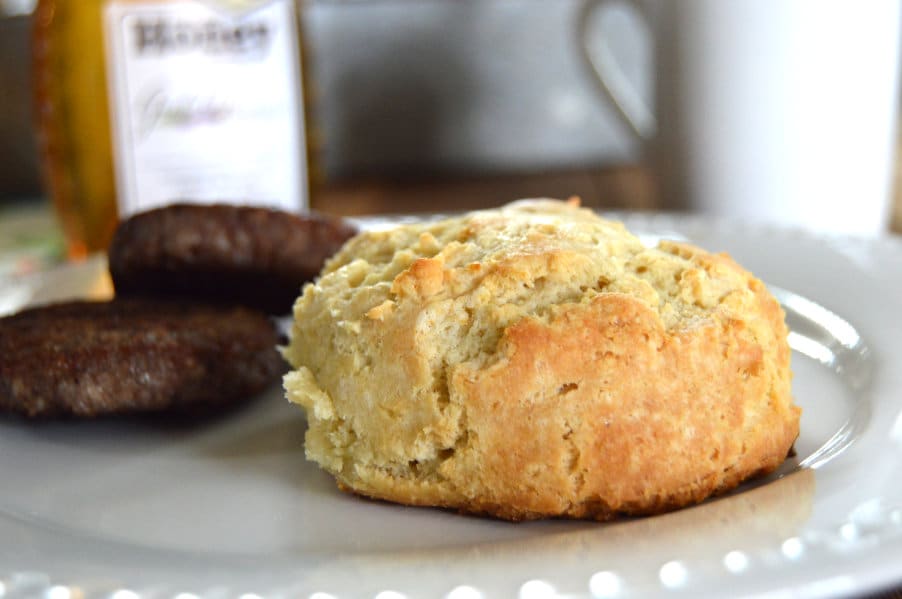 We have a little tradition around here on Sunday morning…we have a big breakfast.  Sausage, eggs, potatoes, biscuits and, of course, gravy…I think this is the Cowboys favorite breakfast of all time.  He usually makes the gravy and I make the biscuits, the girls scramble the eggs or cut up some fruit…it's really a family effort.  Honestly, I am not much of a breakfast girl…I never have been, but I enjoy and cherish the time with my girls and the Cowboy, and I have come to love Sunday mornings.  So, it was really important to me to come up with a great recipe for biscuits…one that everyone liked.  It was a tall order but I finally did it!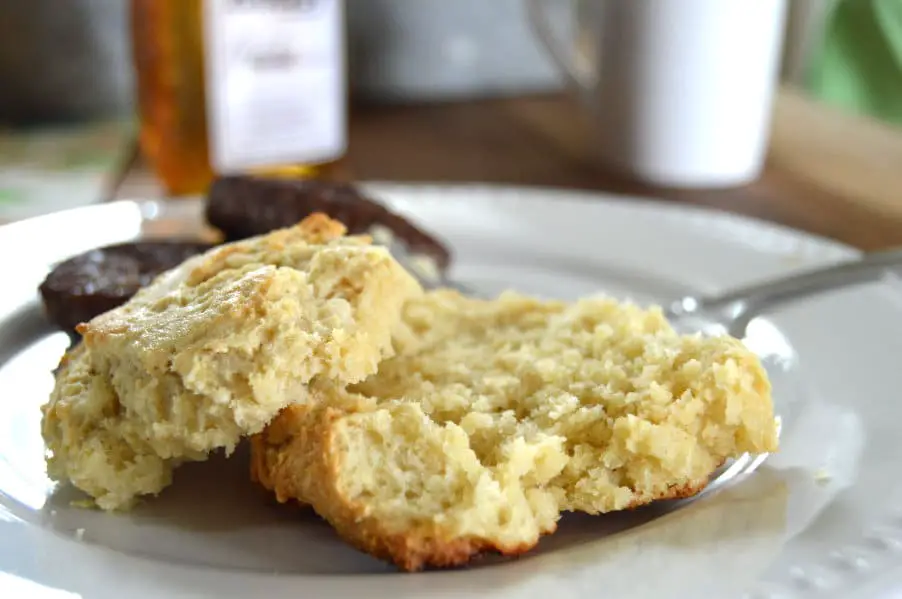 There are many different types of biscuits, but to me buttermilk biscuits are the only way to go.  These biscuits are everything that a buttermilk biscuit should be with no gluten…crispy on the outside, fluffy on the inside, buttery with a hint of tang from the buttermilk.   I use a scoop to form these biscuits so you don't even have to roll them out!   I have to say that they are delicious…and Paige agrees, she had three the day I made them all with grape jelly!  They Cowboy agreed…they are a keeper!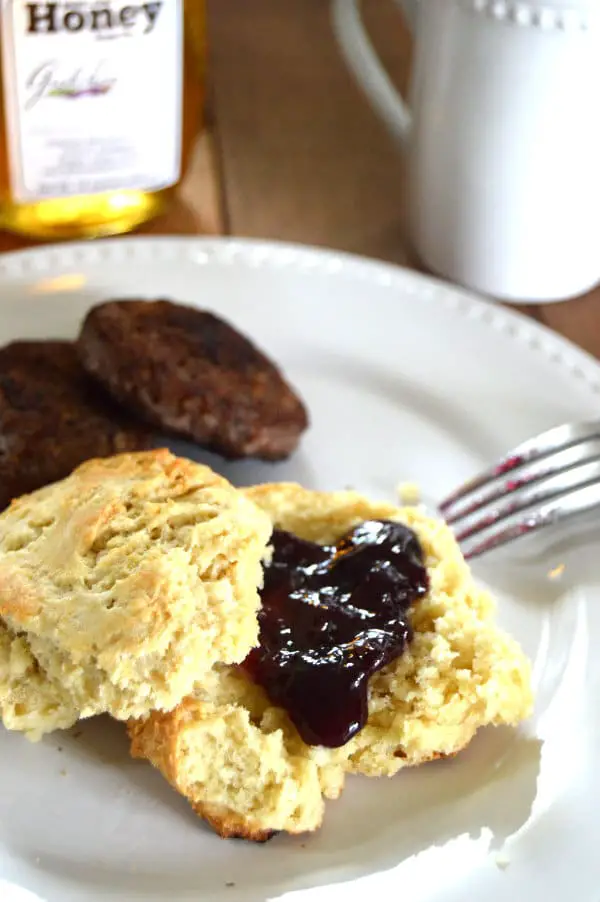 You know what is even better?  These buttermilk biscuits with Jalapeno Sausage Gravy…gluten free of course.  You have got to try this!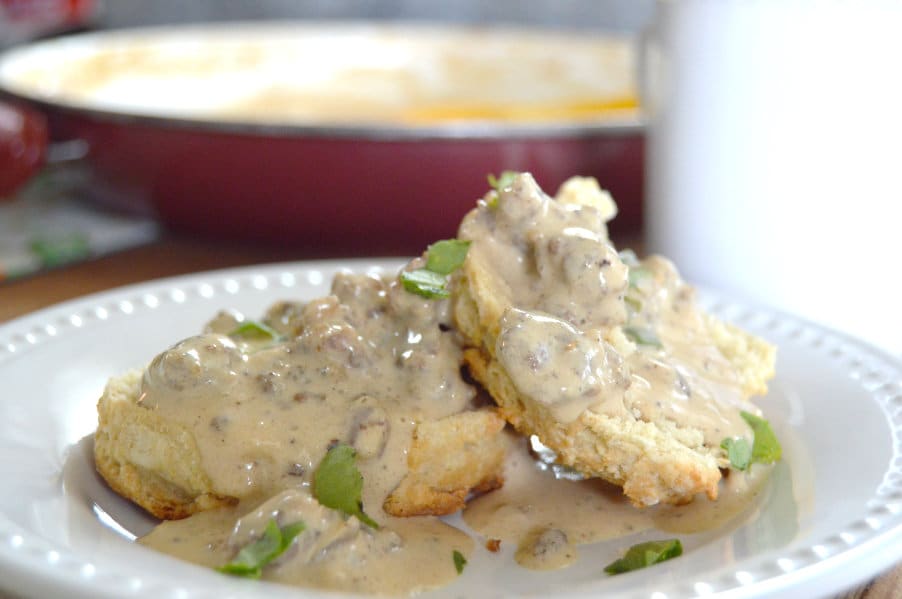 Gluten Free Buttermilk Biscuits
July 7, 2017
: 10-12 Biscuits
: 15 min
: 20 min
: 25 min
: Easy
These biscuits are everything a buttermilk biscuit should be with no gluten...crispy on the outside, fluffy on the inside, buttery...insanely delicious! Serve hot with butter, honey, jelly, jam, gravy or anything your heart desires!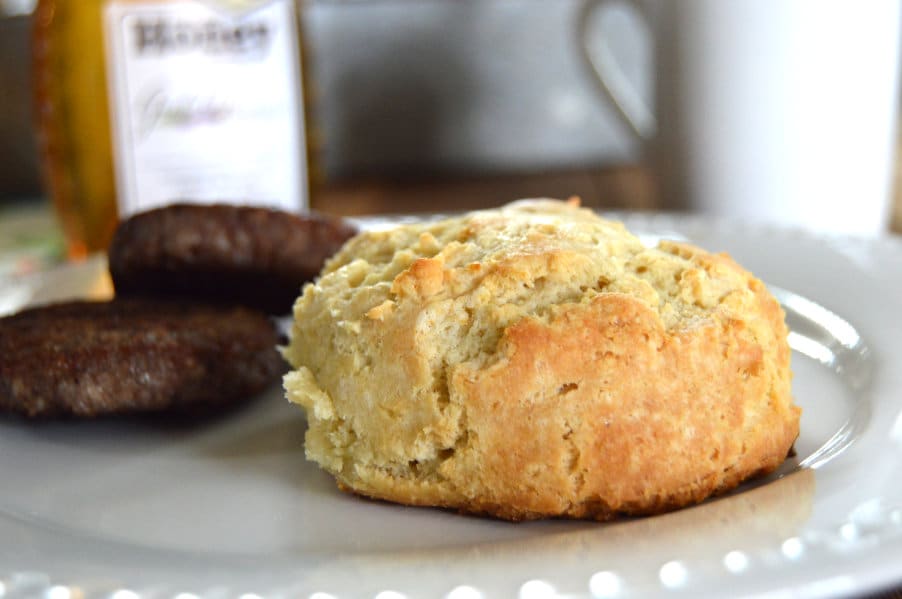 Ingredients
2 1/2 cup gluten free all purpose flour (I used King Arthur)
2 1/2 teaspoon baking powder
3/4 teaspoon baking soda
1 tablespoon sugar
1 1/2 teaspoon salt
1/2 cup butter, cold & diced into small pieces
2 eggs, beaten
1 cup buttermilk, plus 3T extra for brushing tops
Directions
Step 1

Preheat oven to 400 degrees and line sheet pan with parchment and set aside.

Step 2

In a large mixing bowl, combine the first 5 ingredients and whisk together well to combine.

Step 3

Toss butter into flour mixture, cut butter into flour using a fork or your hands. I use my hands and break part the clumps of butter in to the flour continually mixing until it looks like coarse crumbs. You can also use a food processor for this step, just pulse until butter is incorporated.

Step 4

In a large measuring cup, measure out buttermilk then eggs and whisk to combine. Pour the buttermilk mixture into the flour mixture and stir just till combined

Step 5

Using a large ice cream scoop (#12) or a 1/3 measure, scoop the dough and drop mounds onto the prepared sheet pan about 2 inches apart. Flatten tops slightly and brush with buttermilk.

Step 6

Bake at 400 degree for 18-20 minutes or until golden brown.

Step 7

Serve hot with butter, honey, your favorite jelly or some sawmill gravy!