Yesterday the heat index was 107.  On days like this, I dread the "what do you feel like for dinner" question…because in all honesty, I really have no idea.  I don't want to cook a four course meal, heating up the kitchen with the stove and oven in the process. And I really don't feel like anything heavy, fried, smothered, roasted or anything in between.  This is why I love grilling…its already hot out there!  Well sometimes grilling just isn't an option…but I have found an answer to the summer dinner dilemma that excited everyone in the family…even the Cowboy….Blackened Shrimp Tacos.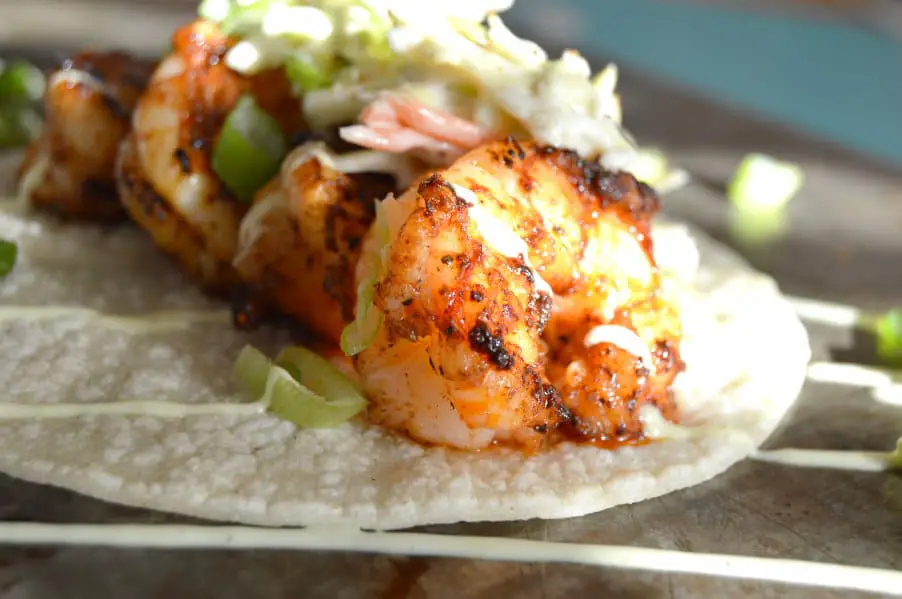 Blackened Shrimp Tacos are spicy, cool, super delish and take literally minutes to through together.  The cast of characters is small and simple, corn tortillas, shrimp, seasoning, coleslaw, lime…that's it.  Yes you can add avocado, cilantro, and other toppings but most of the time, I keep it to a minimum and while I love the additional toppings…I really never miss them because the combination of the spicy shrimp and the cool crispy coleslaw is well….absolutely perfect.
To get this all going, I usually mix the coleslaw together so it can sit and get yummy while I am dealing with the shrimp. I use my Classic Southern Coleslaw recipe found here.  The only thing that's getting cooked here are the shrimp…and they take 5 minutes.  To get this meal to come together faster, you can buy shrimp that are already peeled and deveined.
Now, I don't buy many premade seasoning blends and I know I can make my own blackening seasoning, but I really love keeping Chef Paul Prudhomme's Blackened Redfish Magic on hand for quick applications.  I use is on all seafood and fish, it has a great flavor and spiciness without going overboard on the heat…it is always wonderful!  It has no funny ingredients or preservatives, and it is MSG and gluten free.  Feel free to use your favorite blackening seasoning or to make your own but I'm telling you this is the best blackening seasoning I have had…hands down.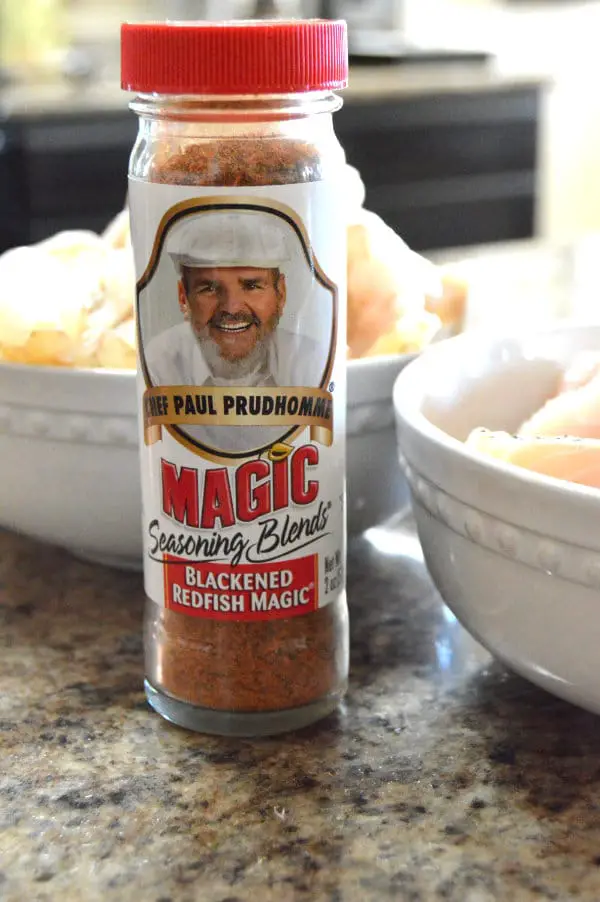 Blackened shrimp are cooked at a pretty high heat causing the seasoning blend to crust up and create a coating.  In the process the heated oil wakes all of those yummy spices up…and well, its MAGIC.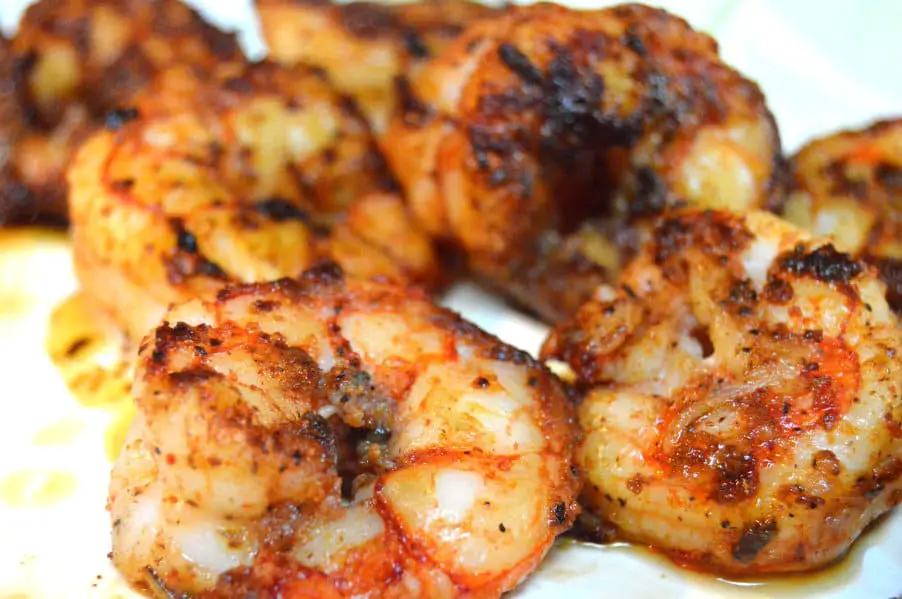 All that is left to do is heat up those corn tortillas, assemble and enjoy!  These tacos are my favorite go-to summer meal…
Blackened Shrimp Tacos
July 3, 2017
: 4
: 10 min
: 20 min
: 30 min
: Easy
Blackened Shrimp tacos are spicy, cool, super delish and take literally minutes to through together. The cast of characters is small and simple but absolutely perfect.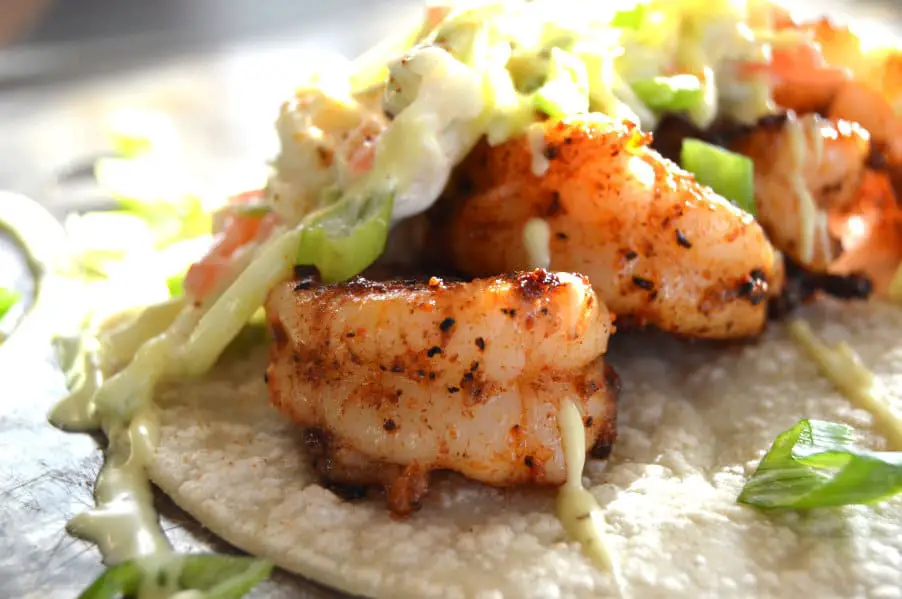 Ingredients
2 lbs shrimp, peeled & deveined (we like wild caught)
1 tablespoon butter
1 tablespoon olive oil
Chef Blackening Seasoning (We use Paul Prudhomme's Blackened Redfish Magic)
1 recipe Classic Southern Coleslaw
8 corn tortillas, gluten free
2 limes, cut into wedges
Directions
Step 1

Prepare coleslaw, if you have not already and refrigerate.

Step 2

Liberally sprinkle blackening seasoning on peeled and deveined shrimp and toss to coat. You want a good amount of seasoning on the shrimp, this will create a crust when you cook them. You will probably use about 4 tablespoons of seasoning. If using another type of blackening seasoning, check the spice level before seasoning shrimp, you may have to cut back if too spicy. Chef P's seasoning does not have a lot of heat so you can use it very liberally.

Step 3

In a large skillet, melt butter with olive oil. When the butter starts to sizzle, add 8-10 shrimp to the pan. You are going to cook the shrimp in small batches so they sear well. Cook shrimp for about 3 minutes then turn over and cook for another 2-3 minutes, or until done. The shrimp should curl slightly when done. Remove shrimp from pan and place on a plate covered with foil while you are finishing the remaining shrimp.

Step 4

Warm up corn tortillas on griddle or comal. You can also heat them up in the microwave by putting them on a paper place and covering them with a damp paper towel. Microwave for about 1-2 minutes or until steamed and soft.

Step 5

To assemble, take corn tortilla, lay 3-5 shrimp across the center, top with coleslaw and serve with lime wedges…ENJOY!