Texans love their beef…anyway they can get it.  In particular, a thick cut steak right off the grill.  Now, I know that everyone has a steak preference…ribeye, T-bone, filet and everyone has a special marinade or technique for cooking their "famous steaks".  Well I am not the only cook in this family…I'm telling you that the Cowboy has been working on perfecting his steak grilling technique over the past 10 or so years.  Folks he has finally done it….The perfect steak, Texas Style.
Now, I do have to admit that I am not a steak girl. It is definitely not something I can eat everyday.  When I was younger, beef had a tendency to upset my stomach so it just wasn't something I ate very often.  With Mom#2 and her family, it was a different story.  Her dad is a retired Air Force Colonel and will, to this day, only eat beef. So when we had family get-togethers with that side of the family beef was what was for dinner.  It was typically dry aged and served rare….so that is how I grew up eating it….I know…pretty lucky huh!
When I met the Cowboy he liked his steaks well done (smh).  He thought I was crazy for eating a rare steak…I'm pretty sure he cringed watching me eat it but over the years he has grown to like a less well cooked steak and appreciates the flavor and juiciness of a nice, medium rare steak.
These days when we have out of town hunters or company in at ranch, the Cowboy's steaks are always on the menu…especially if they aren't from around here!  There is something about standing around the super hot grill and the smelling the char and hearing the sizzle of the meat that is intoxicating…its an experience!  The Cowboy has dedicated many hours and steaks to perfecting his technique and recipe.  In the process, he has created fans of his steaks from Coast to Coast.  I have to say I don't often crave a steak but when I do there is only one that will satisfy my craving!
Over the past two weeks we have had incredible weather here in Texas…perfect grilling weather.  Imagine my surprise (and pleasure) when the Cowboy pulled into the driveway from working at the Ranch with two one and a half inch New York Strip Steaks from my favorite meat market Dzuiks in Castroville, TX…it was just what I had in mind for dinner.  I served this one up with my Marinated Artichoke Salad and some Jalapeno Bacon Wrapped Quail…it doesn't get more perfect…or Texas than this!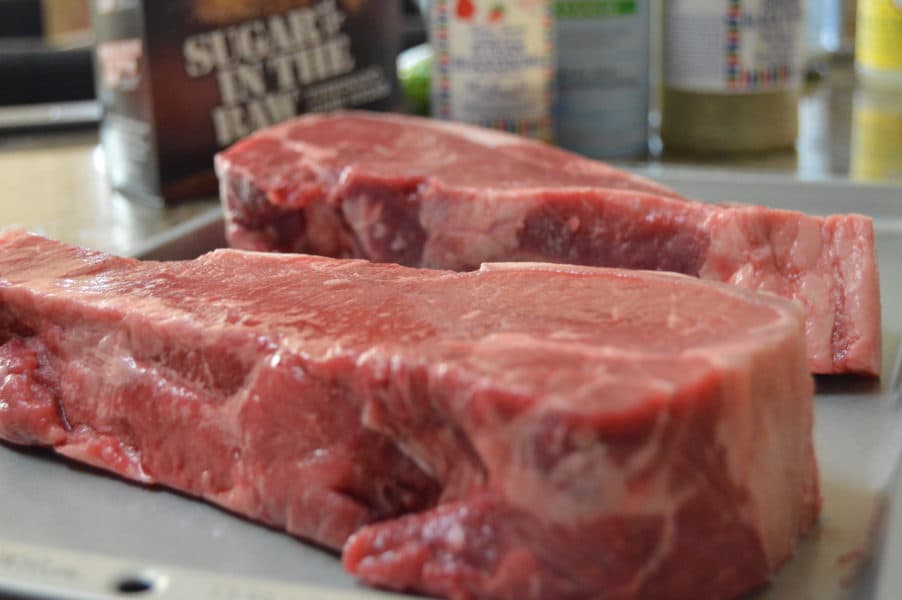 After testing a ton of marinades and seasonings over the years, we found that what we like is incredible meat, seasoned simply, to bring out the natural, beefy flavors.  To make sure the meat is flavorful it is CRITICAL that you let them come to room temperature, seasoned, for a minimum of one hour…but three is best.  Don't you dare rush this!  Why pay good money for great steaks only to be disappointed about how they turned out because you rushed it!  During this precious resting time, the salt and sugar (yep sugar) work to cure the outside of the steak, removing some of the moisture so you get scrumptious, caramelized crust on the outside of the steak…caramelized equals yummy !!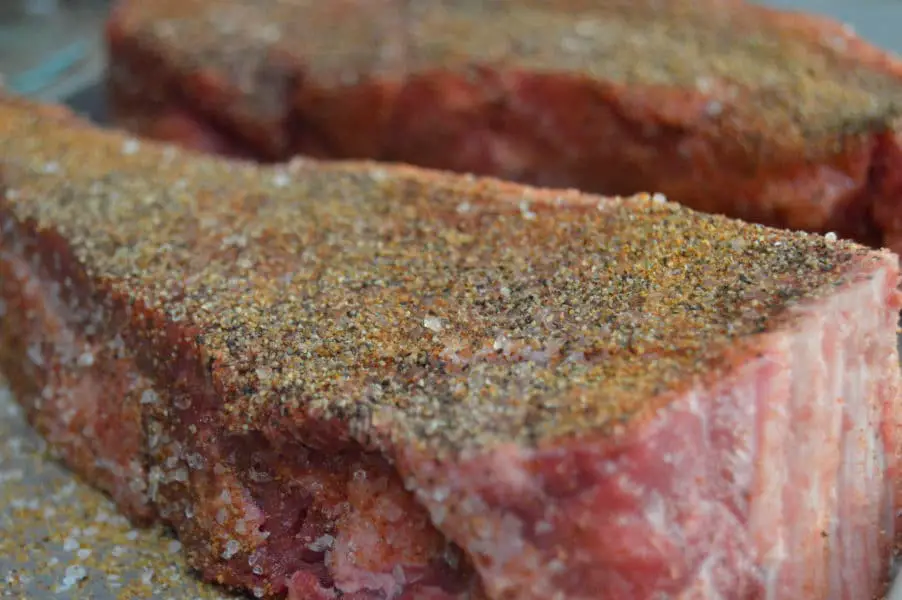 A smokin' hot fire is also a must have. We use charcoal with mesquite at the house and at the Ranch it's straight Mesquite and Oak.  It is important to let your charcoal or wood burn down to a super hot bed of coals before you attempt to cook anything!  This will ensure you get a good, hot sear on the outside of your steaks cooking them quickly.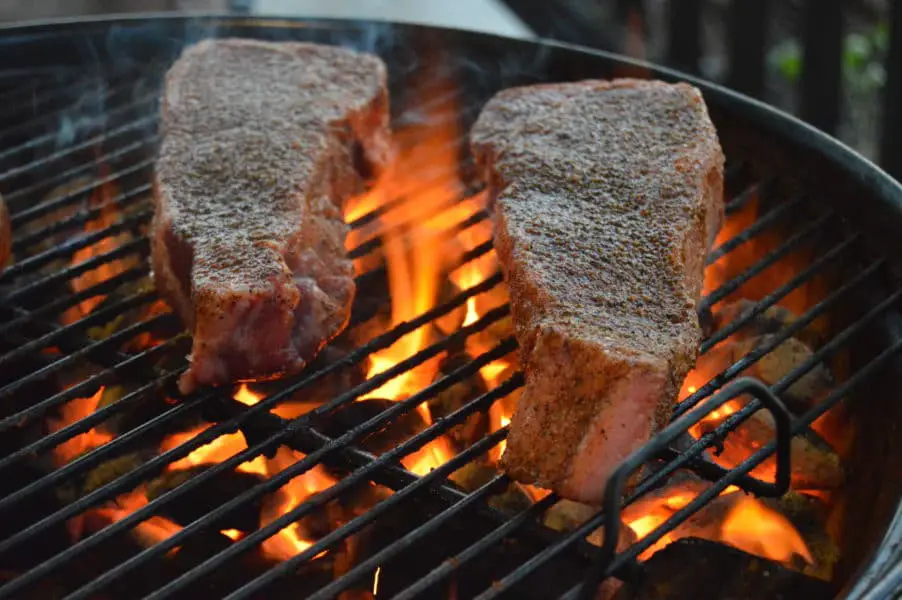 Let's recap…follow these simple guidelines for the perfect Texas steak:
Invest in good steaks..dry aged are best.
Don't get a thin steak for grilling – 1- 1 1/2 inches is best.
Season simply.
Let steaks come to room temperature with seasoning – 1 hour minimum!
Grill only over super hot coals.
Let meat rest at least 5 minutes after coming off grill – if you do not do this you will have a dry, flavorless piece of meat!
These tips work with any cut of steak but the Cowboy recommends a minimum thickness of one inch…if any thinner the steak will cook to quickly.  There is no real recipe here…just a tried and true method for cooking the most mouthwatering steaks you will ever put in your mouth.
How to Grill the Perfect Texas Style Steak
April 11, 2017
: 10 min
: Easy
With simple seasonings and a few simple tips you will be grilling up mouthwatering Texas style steaks in no time! There is really no recipe here...just a tried and true method for grilling amazing steaks!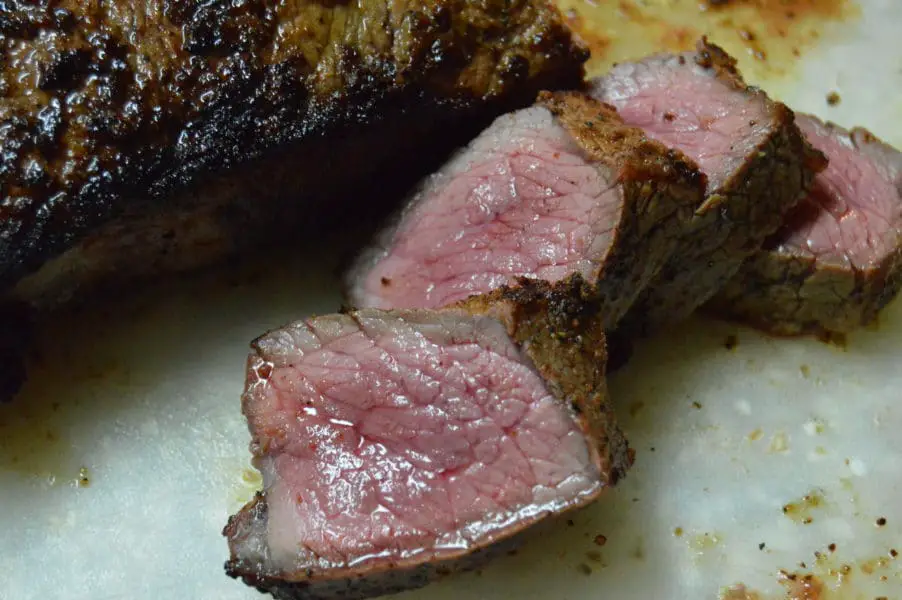 Ingredients
Steak, cut of your choice, 1-11/2 inches thick (I prefer a New York Strip or Ribeye but this works with any steak)
Course Sea Salt
Fresh Ground Pepper
Garlic Powder
Turbinado Sugar or Sugar in the Raw
A super hot fire!
Directions
Step 1

Lay steaks out on a sheet pan, coat liberally with salt and pepper including sides of steak

Step 2

Dust sparingly with garlic powder, using about 1/8 tsp per side of steak

Step 3

Sprinkle steaks with turbinado sugar, using 1/2 tsp per side.

Step 4

Rub in seasonings. Turn steaks over and repeat, making sure to season the sides.

Step 5

Let steaks sit at room temperature for 1-3 hours before grilling.

Step 6

Grill steaks over hot coals for 3-5 minutes per side depending on thickness and desired temperature. I like mine steaks rare, so about 2-3 minutes a side is perfect depending on the thickness.

Step 7

After removing steaks from grill, let them rest for 5-10 minutes before slicing or serving.

Step 8

Prepare yourself for steak nirvana and savor ever bite!