Chicken salad.  For a long time, I never dared to try it when it was served because I knew what I liked… and if I was anywhere other than home I wasn't sure what I was going get.  Canned chicken?  Fruit?  Sweet?  Onions?  Nuts?  Truth is even among family members chicken salad varied.  I remember going to visit my grandparents in Fredericksburg, TX and all the way there my mom talked about this delicious chicken salad that she couldn't wait to go eat at a deli down on Main Street.  As a matter of fact, many times when we got into town we would just go straight there, pick up lunch and take it to the house.  I loved the smell of the bakery and this certain 18 grain bread they made.  My Granny would butter it up and toast it on her griddle for breakfast…it was the BEST!  Anyways, for my mom it was this fruited chicken salad…it had everything in it that I didn't want…grapes, apples, pineapple, pecans and a dressing that was a little too sweet for my liking….I just didn't understand.  For years I thought, it just wasn't a dish for me…I was destined not to like any chicken salad. This would all quickly change…
One weekend while home visiting my mom from college, she insisted on taking me to this little lunch spot.  We always loved trying new things or places…especially something that "the boys wouldn't like".  It was a homey, unassuming place with barn wood walls, screen doors and old kitchen gadgets as décor. We were tucked away in the back room at a corner table.  I was not surprised that Mom ordered the chicken salad…(honestly, I don't remember what I ordered!).  When the waitress delivered it to the table, it looked like nothing special.  My mom moved the pile of potato chips out of the way and cut the warm, buttery croissant in half and took a bite…fireworks.  Naturally, I had to taste…it was delicious…damn delicious.  After that day, this was our go to lunch spot. We enjoyed many more chicken salad sandwiches at that restaurant.  My mom liked it so much she would have done just about anything to get the recipe for that chicken salad.  So about two years later, she became the owner of that lunch spot! 
From then on we made very few changes to the recipe and it was the most popular item on the menu.  Of course, when I opened my restaurant a few years ago, chicken salad was to have a special place on my menu board. I took my moms recipe, tweaked some things and before long, I was making about 30-40 pounds a day just to keep up.  People wanted it anyway they could get it and paired with our homemade Pimento Cheese (recipe coming soon)…it was killer.
So without further ado…I give you my favorite and bestselling chicken salad.  Pulled chicken, good mayo, celery, a few humble seasonings and almonds…simple but when done right, nothing short of amazing.  It's everything you want in a chicken salad…creamy, succulent chicken with the perfect texture combo. Feel free to tweak it anyway you like…walnuts or pecans would be great.  Love onions?  Some scallion would be delish.  Like it on the sweet side…try some green apples.  The trick to this recipe is the cooking of the chicken.  Poaching the chicken is key to getting chunks that are juicy, flavorful and moist.  Chicken that has been boiled to death is stringy and yuck…just don't do it!  If you're in a hurry you could also use any leftover shredded or pulled chicken…I have even used deboned fried chicken in a pinch and I have to say it's my next favorite!
This chicken salad is low carb, keto and paleo friendly.  It's delicious on any variety of breads or croissant…enjoy it as a salad on a bed of lettuce, as a dip for crackers (or my favorite cucumbers)…or just eat it straight up with a fork!  Feel free to make it your own…but for goodness sakes, just make it!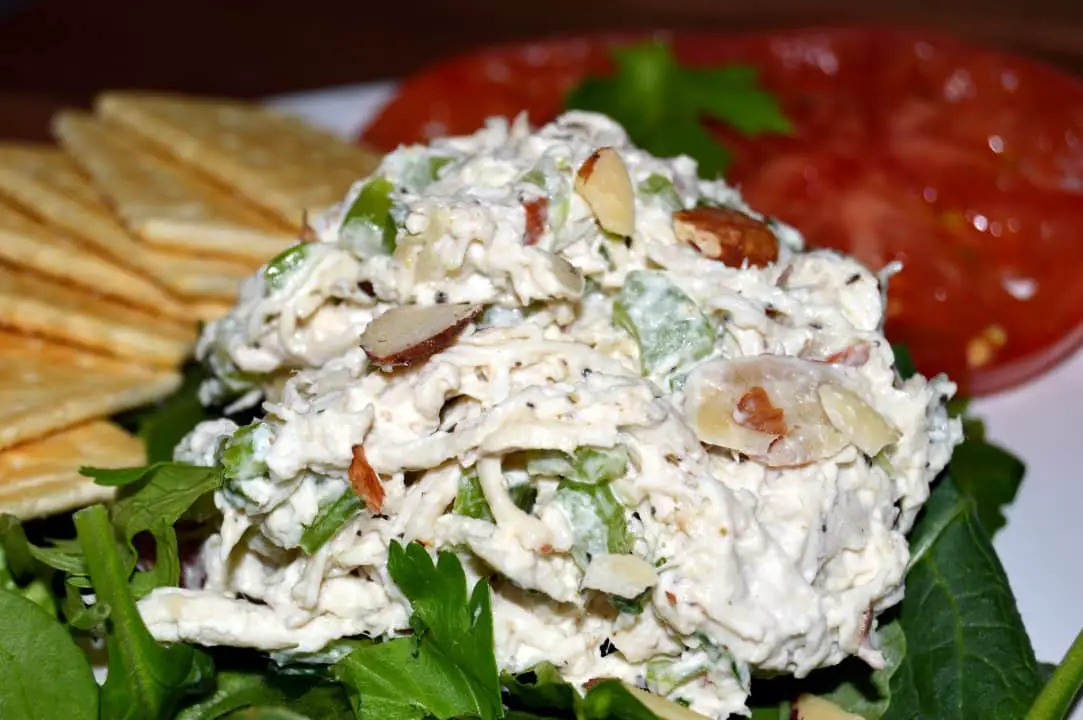 Chicken Salad
March 1, 2017
: 8-10
: Easy
A cast of simple ingredients but when done right, nothing short of amazing. It's everything you want in a chicken salad. Feel free to make it your own…but for goodness sakes, just make it!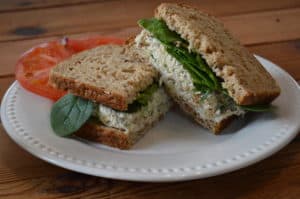 Ingredients
2 1/2 pound boneless, skinless chicken breast (about 3 breasts)
2 tablespoons kosher salt
3/4 teaspoon dried thyme
11/2 teaspoon pepper
2 bay leaves
2-3 cloves garlic, smashed
Juice of 1/2 lemon
2/3 cup celery, finely diced (about 4 stalks)
13/4 teaspoon celery salt
3/4 teaspoon pepper
3/4 cup sliced almonds with skins
3/4 - 1 cup your favorite mayonnaise
Directions
Step 1

To Poach Chicken:In a small stock pot, combine 21/2 quarts water with kosher salt, pepper, bay leaves, garlic and thyme making sure to rub the thyme between your palms to release oils and fragrance. Bring liquid to boil and lower to just below a simmer. Add chicken to liquid. Poach for 15-20 minutes or until chicken is cooked through and no longer pink. Remove chicken from heat and let stand 5 minutes. Remove chicken from liquid and when cool enough to handle, shred chicken. Be sure to see my video on shredding tips. The majority of the chicken should be finely shredded with some chunks,

Step 2

Place warm chicken in mixing bowl. Sprinkle with lemon juice, celery salt and pepper. Toss to combine. Place bowl in fridge to cool completely about 20 minutes. When chicken is completely cool remove from fridge. Add celery and almonds and toss to combine. Add mayo starting with 3/4 cup, add more till desired consistency is reached. Store in sealed container in fridge. Flavor improve as it sits. Note: You may need to add more mayo the next day. Add a tablespoon at a time until desired consistency.