Have you ever made a mistake in the kitchen that turned out to be freakin' amazing?  That is just how this Creamy Garlic Feta dressing was born!
A few weeks ago, I was on a mission to dress up some fresh corn on the cob that the Cowboy had on the grill…. I was thinking Mexican Street Corn.  You know, Mexican Street Corn… fresh corn on the cob slathered with a delicious sauce, usually with Mexican crema or mayo and topped with salty, Cotija cheese.  Well, I had no crema, so I used sour cream, and I had no Cotija, but I did have some lovely feta in the fridge.  I added some garlic (how can you go wrong with garlic?) and my sauce was born!  It made some incredible corn but the real show stopper was the sauce!  It was absolutely addicting!
I just could not stop eating it…I was literally licking the spoon, my fingers…I couldn't get enough.  Then, it dawned on me…this would make an incredible salad dressing.
Soon enough, I got my chance to try out my dressing version.  The Cowboy ended up working late and I declared it "make your own salad" night for the girls and me.   I quickly whipped up a batch of Creamy Garlic Feta Dressing, making a few minor tweaks to the original version and threw it in the fridge to sit for about an hour to let everything get yummy.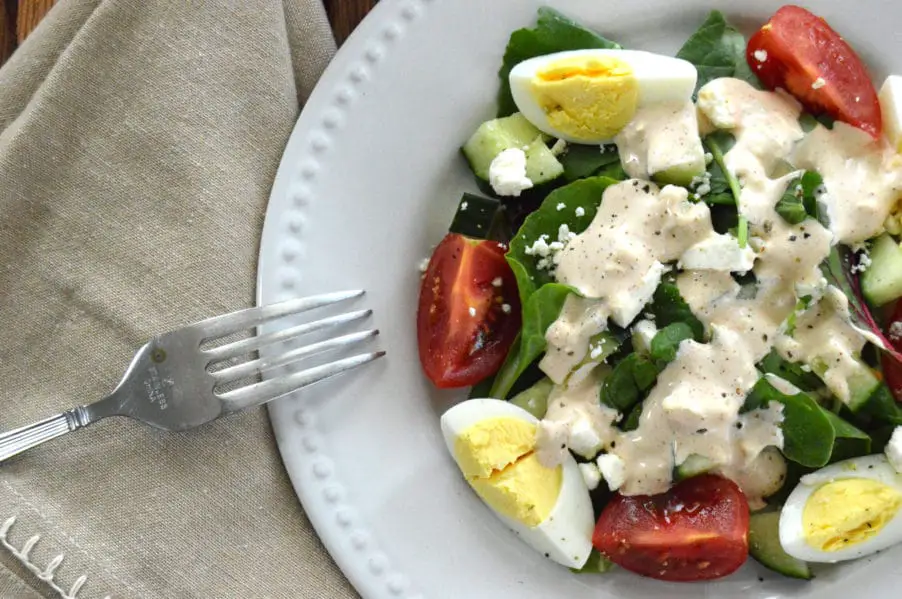 Now comes the real test…Paige.  She is 7, she's free spirited and opinionated, loves her salad and calls every dressing that she likes "ranch".  I asked her if she wanted to try the dressing I made on her salad.  She reluctantly dipped her finger in the jar and licked it… "sure, on the side please".  About 20 minutes later, I heard "Mom, can I have some more ranch please?".  Music to my ears!
I must admit, I am not much of a salad lover.  I just don't really care for all that lettuce…but I do love all the toppings.  This dressing has the chops to turn me into a salad lover.  I ate a salad for lunch just to have the dressing.  I finished the rest of the jar off on my smoked turkey salad, then cleaned the jar with some cucumber slices…and my finger (smh).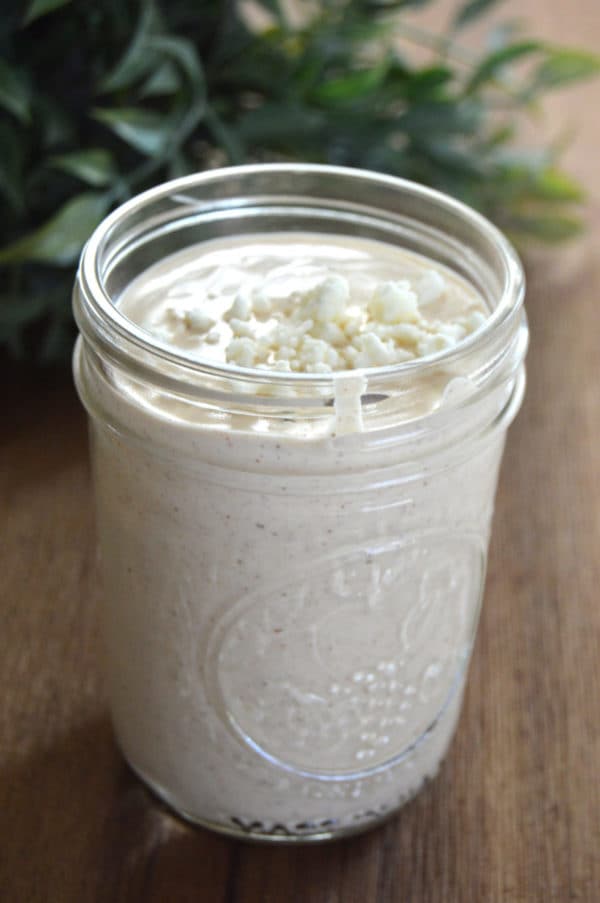 Creamy Garlic Feta Dressing literally takes minutes to whip up and tastes a million times better that the bottled or packaged stuff.  It is great on anything from a simple dinner salad to a Cobb or Southwest style salad to even a pasta salad or as a dip…the possibilities are endless!
Creamy Garlic Feta Dressing
May 27, 2017
: Yields 1 Cup
: 10 min
: 10 min
: Easy
Creamy Garlic Feta Dressing is an incredibly addictive dressing great for any style of salad...the possibilities are endless!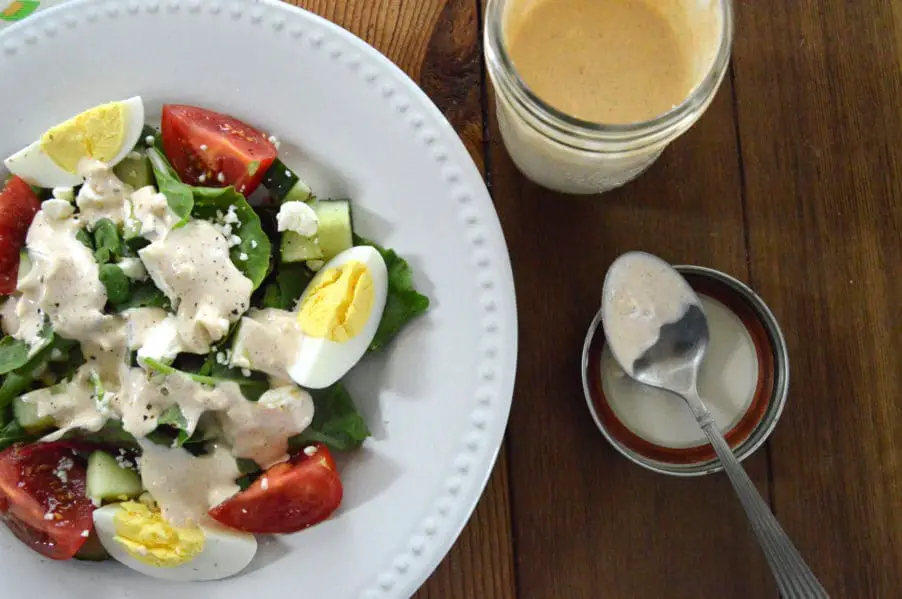 Ingredients
1/4 cup sour cream
1/3 cup your favorite mayonnaise
1/4 teaspoon paprika
1/8 teaspoon cumin
1 small garlic clove, grated**
1/4 cup Feta, crumbled
Fresh cracked pepper
Directions
Step 1

Combine all ingredients in small bowl and whisk together till smooth.

Step 2

Cover or place in jar and refrigerate for at least 30 minutes…or as long as you can wait! Store in tight container for up to 4 days.

Step 3

**An important note…Garlic is a yummy, but funny thing.  The more fine the preparation is, the stronger and more pungent the flavor.  For example, grated garlic, like I used here is much more potent than twice the amount of minced garlic.  A little grated garlic in mayo or a dressing like this is magical…too much and your mouth will be on fire.  Don't go crazy…a little at a time…start with half, you can always add more!