If you are looking for a quick and delicious weeknight meal…maybe even for a weeknight date night…Crazy Cajun Shrimp Pasta is just the ticket!  In the time that it takes to cook the pasta, you can have a meal on the table that is impressive enough for any company or even a special date night and incredibly comforting and delicious.  Simply serve with a salad and done!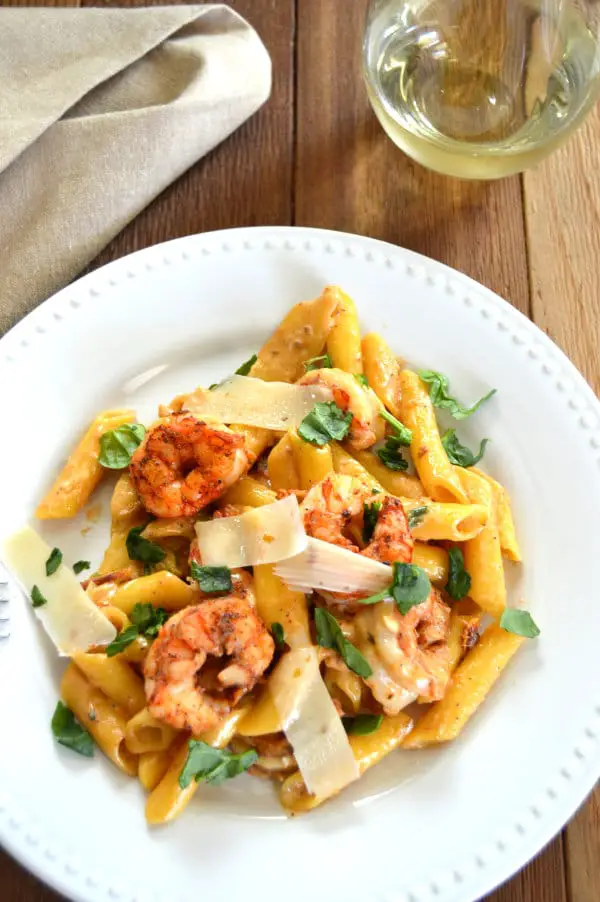 The Cowboys' favorite Italian meal is Chicken Alfredo…hands down.  If we end up at an Italian restaurant, chances are that will be what he orders…I's bet money on it!  He used to order it plain but over the years has discovered he loves it with tomatoes, peas, green onion…really anything but mushrooms!  I mean what's not to love…pasta tossed in a creamy, rich garlicky cheese sauce topped with juicy grilled chicken…it's delish!  Well, if there is one weakness the Cowboy has, it's shrimp!  So I came up with this Crazy Cajun Shrimp Pasta that combines his favorite shrimp and an Alfredo inspired sauce with some yummy surprises!  This is a dish even the kids love!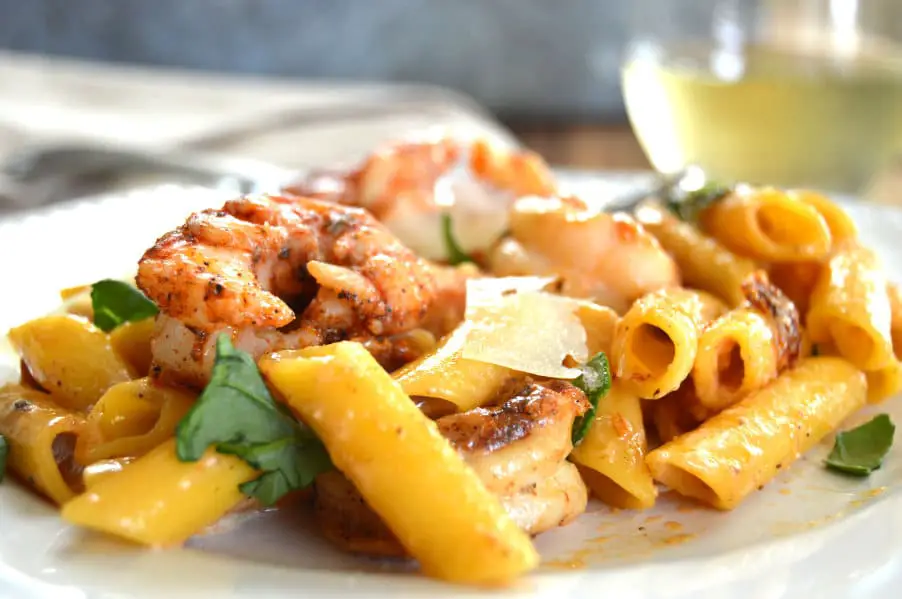 Shrimp make a great weeknight meal because they take literally minutes to cook.  Summertime is also a great time to find them on sale at the seafood counter, making this a super affordable meal that looks impressive and expensive….pretty perfect if you ask me! The shrimp are simply seasoned with my [amazon_textlink asin='B005KRON6A' text='favorite blackening seasoning (find it here)' template='ProductLink' store='texasgranolag-20′ marketplace='US' link_id='7224d150-6c23-11e7-8e75-294a7b6aaeea'] and seared to create a flavorful crust, then the sauce comes together in the same pan…toss in the cooked pasta and shrimp…in less than 30 minutes DONE!  The "crazy" part of this dish is the addition of the scallion and sun-dried tomatoes…definitely not Cajun but delicious flavor additions all the same.  What can I say, it's the way the Cowboy likes it!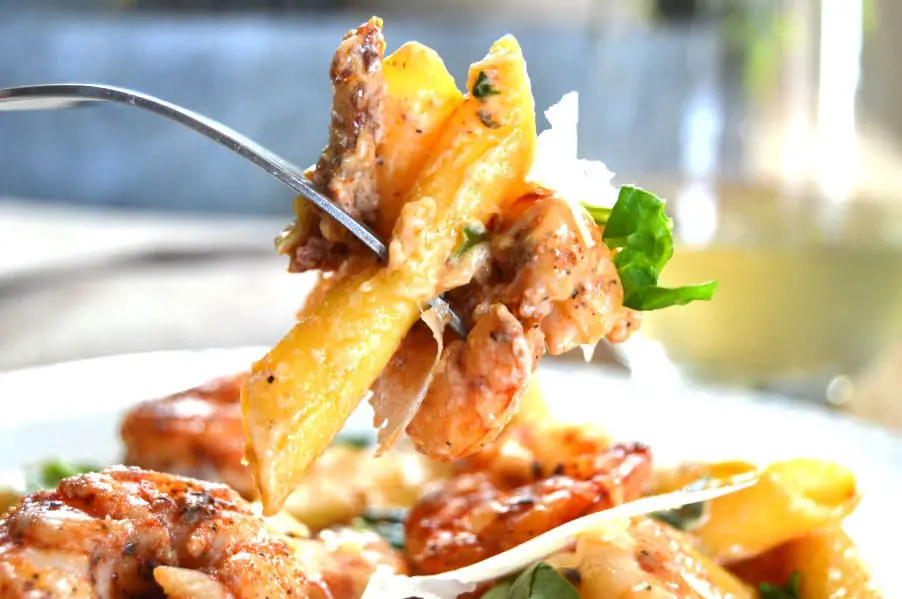 Crazy Cajun Shrimp Pasta is one of our go-to special occasion meals….gluten free, quick and easy, comforting, indulgent…crazy good!
Crazy Cajun Shrimp Pasta
July 18, 2017
: 4-6
: 10 min
: 20 min
: 30 min
: Easy
Crazy Cajun Shrimp Pasta is one of our go-to special occasion meals....gluten free, quick and easy, comforting, indulgent...crazy good!
Ingredients
1 pound gluten free penne pasta
2 tablespoons butter
1 pound large shrimp, shelled & deveined
3 tablespoons blackening seasoning (I use Chef Paul Prudhomme's Blackened Redfish Magic)
2 cups chicken stock, gluten free
2 cloves garlic, finely chopped
1/4 cup julienned sun dried tomatoes (mine were not in oil)
1 cup heavy cream
1/2 cup milk or half & half
1/4 cup shredded Parmesan (plus more for garnish)
1/4 cup shredded Asiago cheese
1/4 cup sliced scallion (green onion)
Salt & Pepper
Directions
Step 1

In a large pot of salted water, cook pasta according to package instructions.

Step 2

While pasta cooks, in a medium mixing bowl, add cleaned shrimp and blackening seasoning. Toss to coat.

Step 3

In a large skillet over medium high heat, melt 2 tablespoons of butter. When butter starts to sizzle, add shrimp in batches of 6- 8. Cook shrimp 2 minutes on first side then flip. Cook another 2-3 minutes. Remove shrimp and place in a bowl or on plate. Repeat until all the shrimp are cooked. Set aside.

Step 4

Once all the shrimp are done cooking, turn skillet down to medium and add chicken stock to the same pan that you cooked the shrimp in. Stir chicken stock scraping up all of the seasoning bits from the bottom of the pan.

Step 5

Add sun-dried tomatoes and garlic to pan and bring to simmer and cook for 2-3 minutes. Add cream, milk or half & half, simmer for another 2-3 minutes. The cream mixture should start to reduce and thicken. The sauce should lightly coat the back of a spoon.

Step 6

Turn skillet to medium low, add cheeses and stir constantly until cheese melts. Salt and pepper to taste.

Step 7

When pasta is done cooking drain well and pour into skillet with sauce. Add scallions and toss to coat pasta in the sauce. Add cooked shrimp to pasta and toss gently to combine. Serve immediately.