Southern Sauteed Summer Squash is by far one of my favorite summer dishes.  It is light & healthy, quick & easy, complements any meal and is SUPER delicious!
We eat a ton of zucchini around here all year round but it seems like when summer time rolls around, yellow squash is all I want!  There are many types of summer squash but I am talking about yellow crooked neck squash.  Yes, you can also buy them at the grocery store all year round, but they are definitely at their best and most delicious in the summer months!  Luckily, I have some friends who have summer gardens that give them more yellow squash than they know what to do with.  I am happy to help out and take a few off their hands!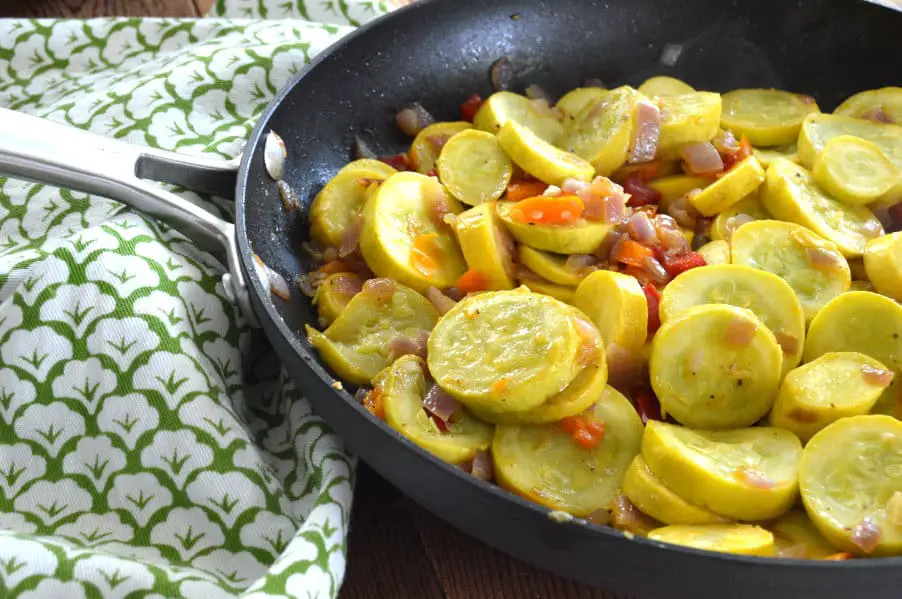 Summer squash has not always been on my list of good eats.  I remember having it as a kid, but it was always boiled…and boiled…and boiled to death!  If the mention of yellow squash conjures up thoughts of a soggy, overcooked, mushy mess…put those nightmares to rest, it's time to give squash another shot at greatness.
Southern Sautéed Summer Squash is about as easy as it gets and takes about 15 minutes from start to finish.  The addition of onion and red and orange bell pepper help to compliment the natural sweetness of the squash and is an out-of-this-world good combination…especially served with the Cowboys' BBQ Chicken Thighs!  My mouth is watering already!
Don't forget to get your pan hot before you add your squash and veggies, this will help everything caramelize and take the dish from yummy to amazing!  Maddie and I fight over those brown caramel pieces…simply to die for!  If you are making this dish with squash that are not in season, you may need to add a little sugar to the dish to help the squash along.  Also, a pinch of cumin adds just a hint of smokiness that is really nice with the sweet and savory squash.  Give it a try and let me know what you think!
Southern Sauteed Summer Squash
June 20, 2017
: 6-8
: 5 min
: 15 min
: 20 min
: Easy
Sauteed Summer Squash with peppers and onions is one on my all time favorite summer dishes. It is light & healthy, quick & easy , complements any meal and is SUPER delicious!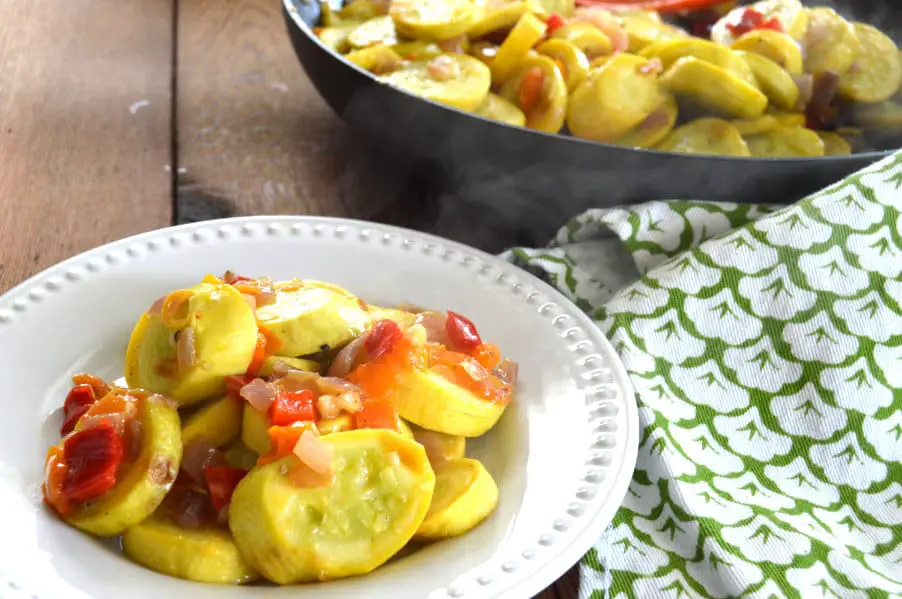 Ingredients
2 tablespoons butter
1 small purple onion, diced
1 red or orange bell pepper, diced (I used half of each)
3 cloves garlic, finely minced
6 medium yellow squash, sliced
½ teaspoon sugar (optional)
1 teaspoon salt
½ - ¾ teaspoon black pepper
1/8 teaspoon cumin (optional)
Directions
Step 1

Melt butter in large skillet over medium high heat. Once melted and butter sizzling, add onion and pepper. Saute for 3-5 minutes. Add garlic and cook for another minute.

Step 2

Add sliced squash, salt, pepper and cumin if using. Continue to saute over medium to medium high heat stirring often for about 10-13 minutes or until squash is tender and begins to caramelize. Adjust salt and pepper to taste. Serve it up along side your favorite BBQ or make a meal of it!

Step 3

Store leftovers in sealed container and refrigerate.