Are you sitting down?  If not, you need to for this!  This treat is going to change your low carb / keto life…Low Carb / Keto Muddy Buddies aka Puppy Chow!  You know the snack I am talking about…the rice cereal coated with peanut butter and chocolate then tossed in powdered sugar.  You may call them by a different name puppy chow, reindeer chow, monkey munch, muddy munch but you know exactly the yummy morsel I'm talking about.  Yep, you are hearing me right…it's no longer off limits and the good news is its so easy to make and tastes absolutely amazing!!
I first got the idea for making a low carb version of this yummy snack because one of my favorite snacks is pork rinds dipped in peanut butter.  If you have not tried it…you need to.  Every time I dipped my crunchy pork rind into that creamy peanut butter I thought of one of my favorite treats from my past…Muddy Buddies or Puppy Chow.  Peanut butter and chocolate have always been one of my favorite combinations, so that crunchy treat, for me, was always irresistible.  I wondered if one of my favorite snacks could me transformed into a tasty, crunchy, sweet low carb treat.  Well, I am here to tell you it has happened….and it is glorious!!
The Cowboy walked in just at the end of my recipe experimentation and I asked him to do a taste test for me.  He said "this is great….what is the crunchy part?".  When I told him it was a pork rind, he just smiled and I knew that I had tricked him in the best way.  He would have never guessed…and he walked away with a handful!
Low Carb / Keto Muddy Buddies are is just as simple to make as the traditional recipe and takes just minutes to make.  A great treat for traveling, low carb or keto kids, lunchboxes, a movie snack, holiday gifts…the possibilities are endless!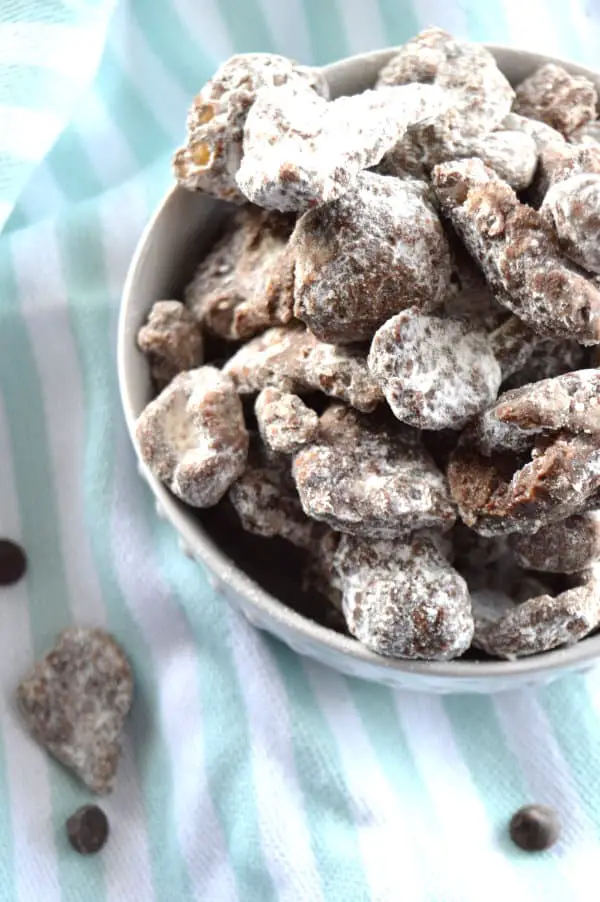 I know there are several low carb & keto friendly powdered sweeteners available, but the Lakanto Powdered Sweetener worked fantastic and left absolutely no aftertaste or weird cooling sensation.  It's a mix of monkfruit extract and erythitol…You can find it here.  I also used Lily's Chocolate Chips.  They are sweetened with stevia work perfectly in this recipe and you can find them here or they are available at HEB, Whole Food and tons of other grocery stores!
Do yourself a favor… spend 10 minutes in the kitchen and make this treat.  You know, I try not to snack during the day and I do limit the sweet treats I have to only on special occasions.  That being said if you do snack, are trying to come up with low carb treats for the kids or if you are trying to convince loved ones… kids, husbands, etc…. to live a low carb/keto life with you, these Muddy Buddies may be just the proof you need to convince them that they won't miss out one bit on tasty, sweet treats!
Low Carb / Keto Muddy Buddies aka Puppy Chow
July 15, 2018
: 3-4
: 5 min
: 5 min
: 10 min
: Easy
This treat is going to change your low/carb keto life…Low Carb / Keto Muddy Buddies aka Puppy Chow! A gluten free crunchy, peanut butter and chocolate treat that will blow your mind! Cowboy and kid approved, this is one snack that you will be making time and again!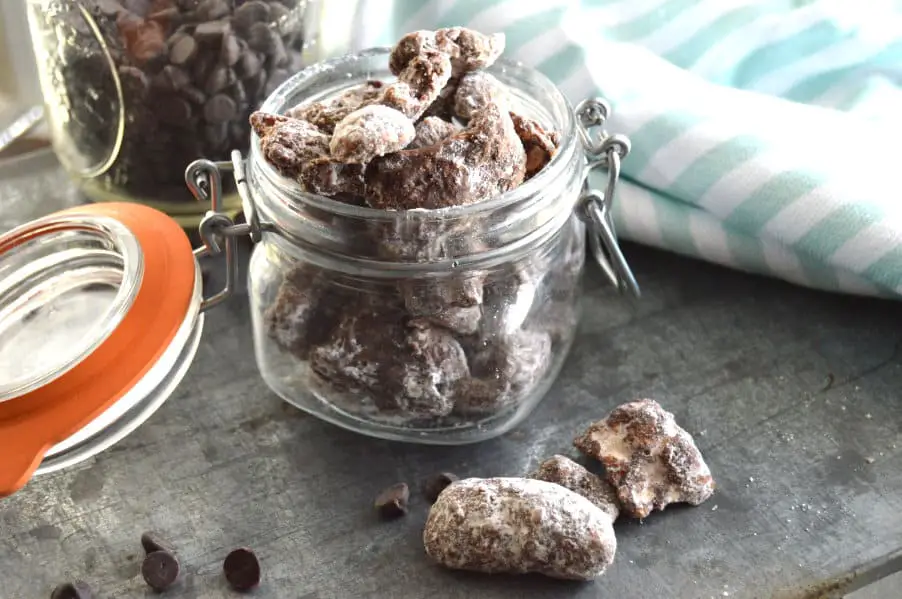 Ingredients
1 ½ cup pork rinds, broken into bite size pieces
2 oz sugar free semisweet chocolate chips
1 1/4 Tbsp smooth peanut butter
1 Tbsp butter
½ tsp vanilla
5T Lakanto Powdered Sweetener
Directions
Step 1

Place pork rind pieces into a medium bowl. Put chocolate chips, peanut butter and butter in a small bowl and microwave 30 second or until melted and smooth. Stir in vanilla.

Step 2

Pour chocolate mixture over the pork rinds and toss to coat them evenly with the chocolate mixture.

Step 3

Pour coated pork rinds into a large zip top bag and add sweetener. Close bag and shake till pieces are coated well. Pour the coated pork rinds onto a small sheet pan to cool and set. Store them in an airtight container at room temperature and try not to eat them by the handful!!
Each serving has approx. 140 calories, 11.3 grams of fat, 6.1g total carbs, 2..3g fiber and 5.7g protein…net carbs 3.8.  Nutrition facts will vary depending on ingredients used.