Whether your craving chocolate or a bowl of cereal, these 10 keto staples will satisfy any craving and help you in your journey to success on the keto diet!
In the past few years of my keto journey I have tried hundreds of keto products in an attempt to make life a little easier and to satisfy mine and Maddie's cravings one way or another. Yes, I basically cook and bake for a living but that doesn't mean I want to spend my days making tons of keto buns for Maddie's morning avocado toast or churning ice cream for our occasional weeknight treat. There are some things that I would rather purchase to make life just a little easier! So I thought I'd share some of our favorite keto staples!
We aren't huge into prepackaged products but those on this list have made quite an impression! That being said, I'm pretty picky and strict about what's in my food so these product are all great quality with clean ingredients! These are must have products that Maddie and I use everyday and have on hand no matter what! Whether your just starting off on your keto journey or you've been at it for years, these keto staples are definite winners!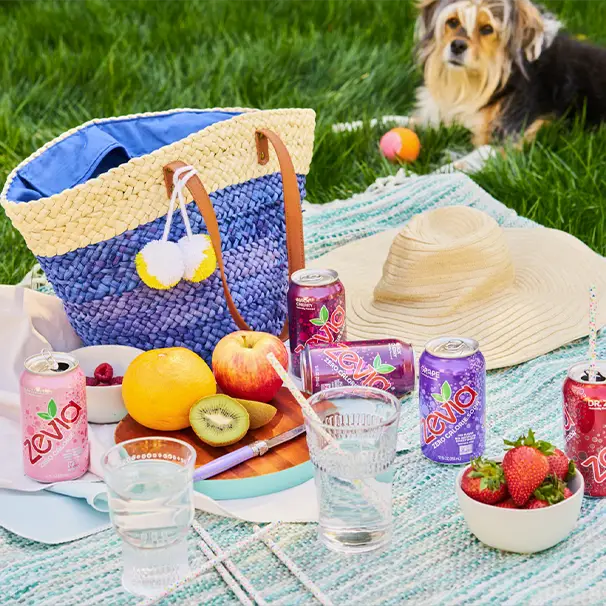 Oddly enough, I've never liked soda or carbonated drinks. I was never a diet coke junkie. Pre-keto, once every few months I would drink a real soda but never diet because I couldn't stand the idea of all the artificial sweeteners. Enter Zevia. These days a definite keto staple, we always have Zevia sodas on hand for a treat or the occasional mixer for an adult beverage. My kids love having a soda every once in a while and I feel great about giving them on that's naturally sweetened with nothing artificial! Yep…all Zevia is clear, gluten free, kosher, no sugar, and delish! I also love the Zevia Energy drinks and the tonic water mixers they carry…all outstanding! Favorite flavors: Cola, Cherry Cola, Dr. Zevia, Ginger Root Beer and Ginger Ale. Paige loves the Black Cherry Flavor. We do find them on sale occasionally at our "local" grocery store but more often I order them by the case on Amazon! You can also order them directly from the Zevia site here!
I'll admit it, I haven't really found a keto ice cream recipe that really does it for me and I've really never been an ice cream person. I can eat a couple bites and I'm good until next time. Well, ever since we found Rebel Creamery Ice Cream in our local store, it's earned it's own shelf in our freezer! The whole family loves this stuff…the Cowboy, Paige, Maddie and me! Great ingredients, gluten free and keto, it feels great to have a delicious option that the whole family craves! Rebel Ice Cream has the lowest net carbs of any ice cream you'll likely find in your local store. Ya'll, it's creamy, dreamy, ice cream heaven! I'm super excited to try the new flavors available but they haven't hit our store yet! Our family favorites are Cookie Dough, Peanut Butter Fudge, Mint Chip and Strawberry! Check out Rebel Creamery's site for availability in your town or city or you can order a case online!
Smartbuns and Smartcakes are one of our favorite ready made keto friendly products to keep on hand. I've learned to love bunless burgers and I eat roll ups instead of sandwiches but Maddie loves avocado toast and Smart Buns are her bun of choice! They also make great garlic bread to have long with meals. The Cowboy uses them for hamburger buns and a bun for his morning breakfast sandwich so they are a family favorite for sure! They are gluten free with 10 grams of protein and 0 net carbs!
Smart Baking Company also makes Smartcakes which are a favorite of mine. I've found that if I make a whole keto friendly cake or dessert I have a hard time not going back and picking at the whole thing until its gone. SmartCakes come wrapped in a package of two and are the perfect pre-portioned treat! They remind me of a sponge or chiffon cake…super light and airy and so flavorful! Four grams of protein, 0 net carbs and 38 calories per cake! Favorite flavors: Lemon, Orange Cream and Cinnamon! We store them in the freezer and thaw them out as needed!
Order directly from Smart Baking Company here and use the code TEXASGRANOLAGIRL for 10% off!
Yes, I know I can make my own electrolyte drink, but my kids and the Cowboy are not going to easily drink apple cider vinegar! I've alos tried quite a few electrolyte beverages but Ultima is one that I tried in my KetoKrate and ordered right away! It tastes amazing with no weird mineral taste or funky aftertaste. Ultima is stevia sweetened, Non-GMO, gluten free and caffeine free…and it has 6 electrolytes and trace minerals to keep you hydrated and feeling amazing! During the hot Texas summers, I make the Cowboy take a few bottles with him on the tractor to help keep him hydrated. Everyone around here loves it and I even make up bottles for the guys around here on the ranch in the summer to drink after a long hot day of work. I recommend buying the large canister instead of the individual packs to save a little money but if your on the go the single serve packs are the way to go! Zero carbs and sugar! Get your Ultima here! Favorite flavor: Lemonade
Over the past few months, I've been searching for a keto staple meal replacement shake that is nutritionally complete with clean ingredients…that tastes good. Sounds simple? Well I've spent hundred of dollars on shakes and finally found my forever shake…KetoChow. I love that I can control the amount of fat that I need to meet my macros or calories for the day. I use butter and almond milk to make mine because heavy cream is so hard on my tummy but the taste is amazing!! I make the shake up at night and put it in the fridge for lunch the next day. You can make up batches ahead of time if needed….and drink them warm or cold…SO GOOD! They also have savory flavors so think warm Creamy Chicken soup for fall or winter…YASSS!! Favorite flavors: Mint Chocolate and Chocolate so far. Keto Chow has sample packs you can try as well so you don't have to purchase a whole bag to try new flavors!
The biggest thing I missed on keto was a bowl of cold cereal! I was never one for breakfast but I would often eat cereal for a snack, dinner or dessert espcially when it was hot out! Well, I've tried my share of packaged keto cereals and I haven't been impressed. Frankly, I gave up. Happy with my keto granola and homemade cinnamon crunch cereal I moved on…and then Magic Spoon showed up in my KetoKrate and after my first taste I ordered a variety pack to taste every flavor….it was that good! The texture is perfect with no weird bitter aftertaste and the whole family loves it…even the Cowboy. This is the newest keto staple in my house! Yes…it's pricier than your traditional cereal but it's the price I'm willing to pay for a bowl of cereal every now and then! High in protein with 3 net carbs per bowl and the nostalgic taste of the cereals of my childhood…YASSSS!! Favorite Flavors: Chocolate, Frosted, Fruity…the Cowboy loves the Cinnamon! Order directly from Magic Spoon!
Salt a keto staple? YES! Did you know that if your keto you need like 2 teaspoons of salt per day??!! Yes, salt is essential on a keto diet so it's important that even our salt is great quality right?! Redmond's Real Salt is by far the best tasting and best quality salt I've tasted and better yet it's mined and made right here is the US! In fact, its the only pink salt produced in the US and has been mined in Utah since 1958. This is our everyday salt and we find it at our local grocery! You can also order on Amazon and on Remond's site here!
Redmond's also has seasoning blends, Bentonite Clay masks, bath salts and more…check them out here!
I've done a ton of sugar free chocolate testing and I can't find any keto friendly chocolate bar that tastes as good as Lily's Chocolate Bars. Their chocolate is stevia sweetened, smooth, and so flavorful, in my opinion best keto friendly chocolate bars available as of now. Lily's makes a variety of chips, candy bars, baking bars and now confections like peanut butter cups, chocolate covered almonds and more. The chips are becoming easier to find the your local grocery store but I have not seen the bars or confections except in specialty stores like Whole Foods or other health stores around me! Keep your eyes open for them to go on sale which they typically do and pick up the Salted Almond Extra Dark Chocolate and Salted Caramel Milk Chocolate bar…even if your not a milk chocolate fan…soooo GOOD! You can order online here but your best bet is to go into your local Whole Foods or health store to stock up!
Chocolate chips…definite keto staple! Ok, I know Lily's has had the keto friendly chocolate chip market pretty much cornered over the past few years but there is a new kid on the block. Let's Bake Believe has a line of stevia sweetened chocolate chips that are not only affordable but freakin' delicious. They have a semisweet, dark and get this… a white chocolate version which is incredible! Gluten Free, GMO free, peanut free and soy free. Another great thing…they are available at Walmart stores across the country! You can find out more about Let's Bake Believe sweets here!
Check out my Keto Double Chocolate Zucchini Bread recipe!!
When I get notice that my KetoKrate is arriving we all get pretty giddy! KetoKrate is a monthly subscription box full of keto savory and sweet snacks and foods to sample. It's a great way to find new keto staples and snacks that you possibly would have never known existed! I've never been disappointed in a KetoKrate and have found some amazing products along the way like Ultima, Cereal School and so much more! If you're keto or low carb and are having trouble finding snacks or products you like or just like to have great snack on hand, KetoKrate is a great way to try new options out without having to buy a whole case or box! Plus each month there are $20+ in coupons in each krate…it's a win! All products in the box are gluten and maltitol free and are 5g or less of net carbs! Sign up to get a box here and try it out!