These are some of the foods, tools, services and kitchen gadgets that I use everyday!  Some I use in the kitchen and some I have found helpful along the way in my food blogging journey.  I have had many people ask me about products or gadgets (I have tried and owned many), so I thought I would share with you my all time favorite things.
This will be a running list so keep checking back…I am always out trying new things!
Some of the following are affiliate links, which means if click on them and make a purchase, I'll get a little commission at no extra cost to you.   It helps me pay for this website and ingredients for new recipes…Thanks for your support. All opinions are my own and these are products I have purchased and own or use in my kitchen on a daily basis because the are awesome and I love them!
My Favorite Kitchen Appliances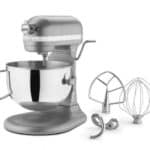 Kitchen Aid Pro 600 Series 6-Qt Stand Mixer
I received this mixer as a gift years ago and I just love it!  From kneading dough, whipping up cream or egg whites to mixing up a cake batter or even shredding chicken it is a must have in my kitchen!  I just started using it to make my own butter!
I have owned a few food processors in the past few years…I wish I would have had one of these all along.  I use this for all kinds of things in the kitchen from shredding cabbage to making biscuit dough.  It has a powerful motor right underneath the bowl so it really performs well.  I have wasted a lot of money on cheaper versions…this one is the best I have owned…hand down!  It also makes great peanut or almond butter!
I saved for almost a year to splurge on this blender and with the help of some Christmas gift cards, I finally purchased one about 4 years ago.  I have to say the Cowboy doubted I would ever use it…but I have used it almost everyday since…sometimes multiple times a day.  Smoothies, batters, eggs, peanut  and almond butter, hummus, soups…I could go on and one.  It is a staple in my kitchen, even the Cowboy loves it and uses it every morning!
This is my favorite new kitchen appliance!  I love that it is so versatile and takes the place of so many gadgets. I cook everything from roast to rice in this thing.  It sold me when it produced the perfect brown rice.  It is super easy and safe to operate, clean up is a breeze and it saves me a ton of time!
Nespresso Pixie Espresso Maker & Milk Frother
I am a coffee junkie and this espresso machine has saved me probably thousand of dollars in visits to the local coffee shop.  This is my second Nespresso machine…I adore the design and love looking at it on my counter.  This espresso is creamy, flavorful, absolutely delicious and they best part is there is no measuring, only pods to deal with.  Yes, you have to order the pods unless you live in New York City, but they are all around $.75 cents a piece and are shipped quickly to your front door.   For $1.50, I have a latte that would have cost me $5…and it tastes better!
My Favorite Gadgets
Whether you are making chicken fried steak, pork chops or chicken breasts this meat tenderizer does a great job at…well, tenderizing meat and also preparing it to receive any marinade or seasoning.  Great gadget to add to your kitchen arsenal!
I love these measuring scoops so much more than traditional measuring cups.  They are less bulky and I find they are great for getting in to containers that a fat measuring cup just won't fit in….think mayo jar, peanut butter, etc.
Love this for making mayo right in a mason jar!  Great for a ton of other things around the kitchen blending soups, sauce, etc.  The end just pops off so cleanup is super easy as well.
Smoking & Grilling Favorites
Smokin-It Model 2 Electric Smoker
I bought this smoker as a Christmas present for the Cowboy 2 years ago and let me tell you, we have gotten more use and joy out of this thing!  This smoker is pure magic…meat goes in with some wood chips, set the temp and forget about it till your timer goes off.  The result…perfectly smoked, gorgeous meat!  This smoker is built right…we have owed a few other electric smokers that just didn't cut it.  The Smokin It #2 will make you look like a BBQ genius!
ThermoPro Digital Meat Thermometer
Dependable, well made, durable, easy to use and setup…everything you want in a digital meat thermometer.  We use this every time we use our Smokin-it smoker!
Yep, we have a huge stainless steel gas grill on the patio, but this Weber is our favorite for grilling anything that needs to be seared nice and hot!  They are so reasonable, easy to move around and really well built…it is our choice for steaks , grilled chicken, fish, veggies and more!