I get it.  The holidays can be super challenging after deciding to live a low carb or keto lifestyle.   Holiday parties, family gatherings, office potlucks…they can be hard to navigate.  Guests know your doing that "keto thing"  and their not quite sure what to expect when they come over to your home for the holidays and it can be just as stressful for you going over to a family members house for a holiday gathering wondering what you will be able to eat.  Will Aunt Ruth be insisting that you try a bit of her famous pie?  Is that ham glazed with brown sugar and who knows what else?
Is it even possible to celebrate and enjoy a low carb holiday season?
Good news….You can absolutely rock this holiday season…and stay low carb. You can celebrate and enjoy incredible food and better yet….you can make dishes that will delight your family and guests and they will have know idea that they're low carb or keto!
Staying low carb or keto this holiday season has never been easier…enter my Keto Survival Guide!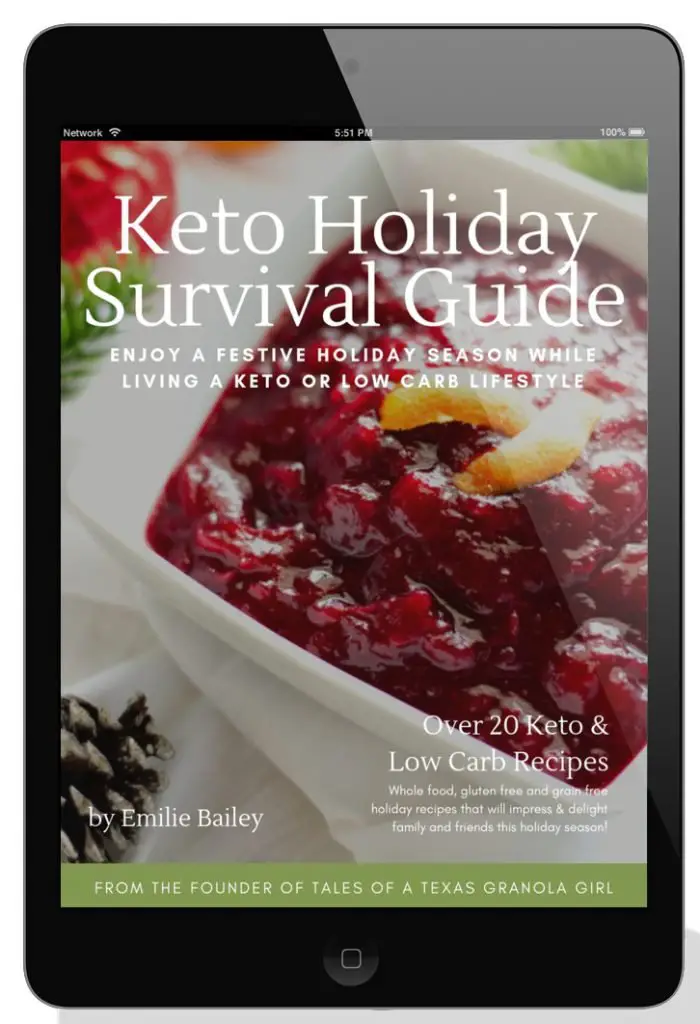 Keep your Holiday keto or low carb with this collection of amazing and delectable keto holiday recipes!   Every recipe has been tested, tasted and tested again!   These delicious low carb recipes will impress guests and family alike…and keep you on track throughout the holiday season! The holidays can be a challenging time of year when living a low carb or keto lifestyle…but it doesn't have to be!  These recipes have been tried and tested by some true die hard carb lovers and they all got rave reviews!
This guide is has over 20 delicious and festive holiday appetizers, side dishes and dessert recipes that you can make for your own keto holiday or make to take with you to a holiday party or gathering…and everyone will be shocked to find out that these dishes are keto!
Here are some of the recipes included!
Appetizers 
Poblano Artichoke Dip
Spinach & Sausage Stuffed Mushrooms
Ketofied Texas Trash
Jalapeno Mexican Fudge
Festive Sides
Maple Bacon Brussels Sprouts
Keto Soutthen Sytle Cornbread Dressing
Keto Cranberry Sauce
Green Chili Cauliflower Rice Casserole
Gorgonzola Green Bean Casserole
Delicious Desserts
Keto Snickerdoodles
Double Fudge Cookies
Peppermint Mocha Cheesecakes
Dairy Free Pumpkin Cobbler Bars
Keto "Puppy Chow"
Super Simple & 100% Gluten Free
All the recipes include macro information for tracking purposes and are simple and easy to make!
We have also included some helpful tips to help you kick off the holiday season in a way that sets you up for success! All recipes are 100% gluten free, grain free and incredibly delish!
There is no reason for you not to stay on track or suffer through the holiday season!
To celebrate the launch of this Holiday collection, you can get this valuable guide right now at it's lowest price ever until Nov. 19… $12.99!
Download this awesome keto recipe collection now!  Happy Holidays!